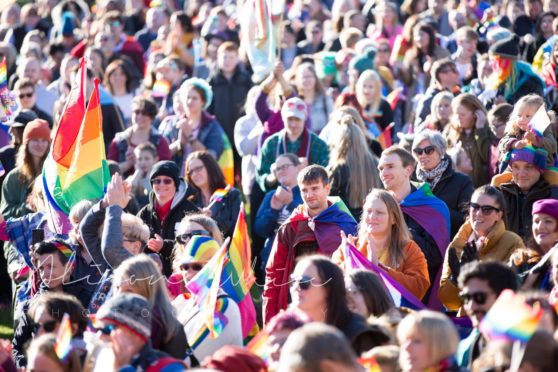 A plea has gone out to bikers to join the Proud Ness parade in Inverness later this month.
Organisers of the LGBT+ pride event on Sunday, July 21, hope the leather-clad motorcyclists will help the popular parade go with an even bigger roar than last year's success.
Bikers are wanted to lead the parade which kicks off at 1pm before thousands are expected to march through the city centre towards Bught Park.
Proud Ness chairwoman and event organiser Jess Taylor said: 'We would be so honoured if local bikers joined us for this year's Proud Ness parade.
"We want you to lead the parade from the front so dust off the old Triumphs, break out the brand new Ducati's and BMW's."
The meeting point for bikers will be the Eastgate precinct at the bottom of Stephen's Brae from 12pm with a 1pm start.
Highland Council will show support for Proud Ness by flying the rainbow flag, symbol of the LBGT+ rights movement, in Inverness during the weekend of the parade.
The flag will fly at the Town House and the council's HQ on Glenurquhart Road.
Organisers have announced a "We are Family" theme for the event in Inverness.
This year's Proud Ness will begin with a march leaving from Crown Primary School through the city centre towards Bught Park.
At the park there will be speeches, live music, Ruff Ness dog show, circus acts, stalls, food and drink, a funfair, inflatable city for children and much more more.
Those interested in taking part should email: info@proud-ness.org, while Proud Ness event updates can be found at www.proud-ness.org