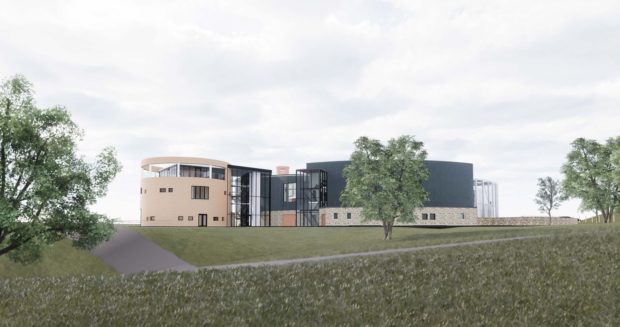 Full plans for the new distillery proposed at Craggan, near Grantown on Spey, have been lodged with Highland Council for approval.
Speymalt Whisky Distributors, trading as Gordon & MacPhail, want to build the first new malt whisky distillery in the Cairngorms National Park since its creation in 2003.
The company expects it to become a major tourist attraction and significant local employer.
The plans show the building as circular in nature, embracing the views across the River Spey to the Cairngorms.
The circular design will help disguise much of the day-to-day working area within the service yard, the company says.
Living roofs of sedum plants will help the buildings blend into the environment when viewed from higher ground.
More than 150 people attended a public consultation event earlier this year to view the plans and make comments.
Ewen Mackintosh, Speymalt managing director, said: "We were delighted with the turnout at our consultation event and support for our plans.
"Indeed, we've attended quite a few local events over the last year and been really heartened by the warm welcome we have received.
"As a family-owned business located in the north of Scotland we are very much rooted in our communities and we are keen to develop strong relationships in Grantown-on-Spey and the surrounding area.
---
Local and Proud: Follow our new Facebook page dedicated to the Highlands and Islands
---
"We were particularly keen to ensure we have reflected on the feedback from the local exhibition in our final plans."
The site lies in the upper part of Strathspey and is overlooked by hills flanking the strath to the east and west.
The Cairngorms are visible from the south-east and the Cromdale hills to the north east.
The nearest hills are to the west, and have  several homes overlooking the site.
Designers have labelled the roof as the 'fifth' elevation in terms of design, and anticipate that the sedum growth will minimise its visual impact for houses on the western hills.
Large expanses of glass will flood key vessels such as the mash tun and stills with light, and allow them to be glimpsed externally.
The open nature of the site also means views out of the building to the surrounding hills and River Spey, say the designers, a factor which reinforces the strong connection between malt whisky and the landscape.