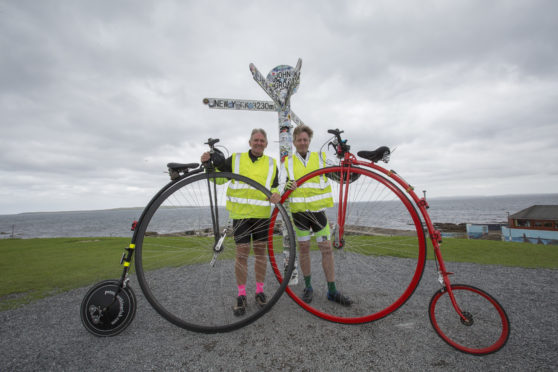 Two cyclists have successfully completed a challenge to ride from Lands End to John O' Groats- on bikes the height of a horse and without the benefits of rubber tyres and gears.
David Fox-Pitt and Neil Laughton covered the 841 miles in 13 days perched precariously aboard a pair of farthings, last considered a mode of transport some 139 years ago.
Together they braved torrential rain, strong winds and risk of serious injury as they pedalled up to 90 miles a day.
They arrived in John O' Groats at around noon on Sunday and gingerly stepped off their bicycles with relief.
Mr Laughton is the founder of the UK Penny Farthing Club, while Mr Fox-Pitt MBE is an adventurer and motivational speaker based in Aberfeldy.
The former described the expedition as an amazing journey and 'a real eye-opener'.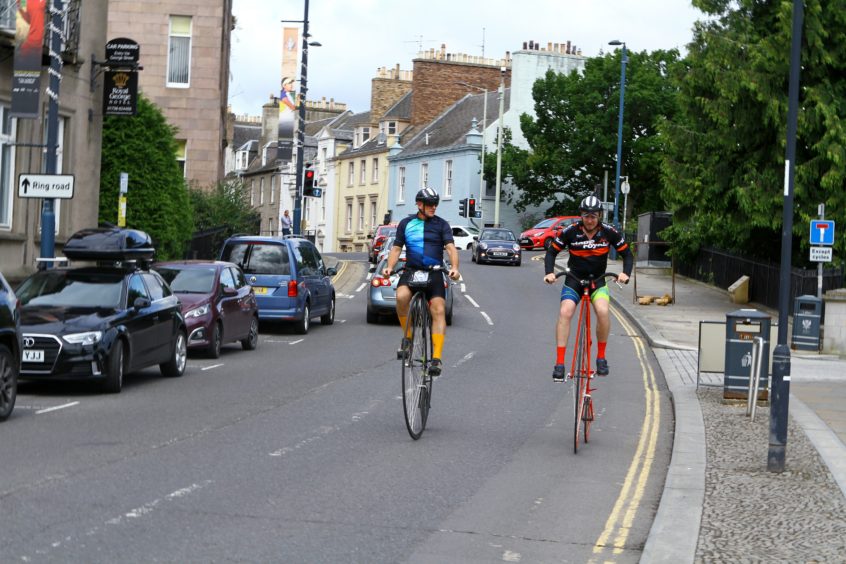 He said: "There were lots of emotions and lots of near death experiences.
"These are not ordinary bikes. One trip and that's you over.
"I had a crash in Lancaster where I did a triple somersault and was very lucky not to break any bones.
"You face-off with dangerous drivers, getting within inches of you at 70mph and you have to have your eye on the road all the time.
"You could easily break your neck, or worse. It's always at the back of your mind. Lots of people died on penny farthings 139 years ago.
"It's an emotional thing, a mind game, day after day over a long haul."
Mr Fox-Pitt, meanwhile, brushed aside the tribulations of the ride to talk of the commitment to feeding hungry children that was the main motivation for their  expedition.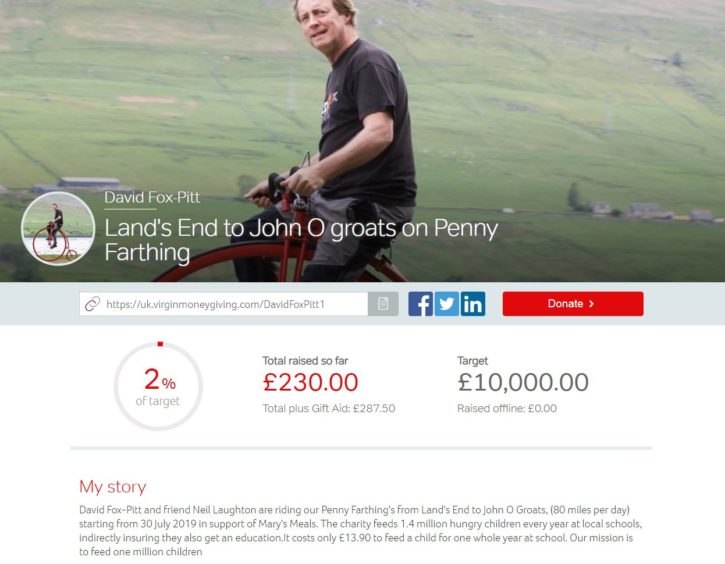 His own company, Wild Fox, has helped to raise more than £40 million for charities to date but the effort
It was dubbed Miles for Meals and in aid of Mary's Meals.
He said: "Mary's Meals is a phenomenal charity that Neil and I have been determined to help.
"With Henricks' Gin's sponsorship we were able to take on this challenge to raise much needed funds.
"Mary's Meals began by feeding just 200 children in Malawi in 2002. Today they feed 1.5 million children annually.
---
Local and Proud: Follow our new Facebook page dedicated to the Highlands and Islands
---
"There are still 60 million kids out there without a meal, which is pretty scandalous in this day and age, and it's up to individuals to do something.
"Just £15 is enough to feed a child for a whole school year in the developing world."
Mr Fox-Pitt joked that he was tempted to throw his penny farthing over the Kessock bridge on his way south.
In reality, it will will be out in storage for the foreseeable future but he said it was likely to be some time before he can look at it again.
The expedition has a Virgin Money Giving page which is still open for donations.