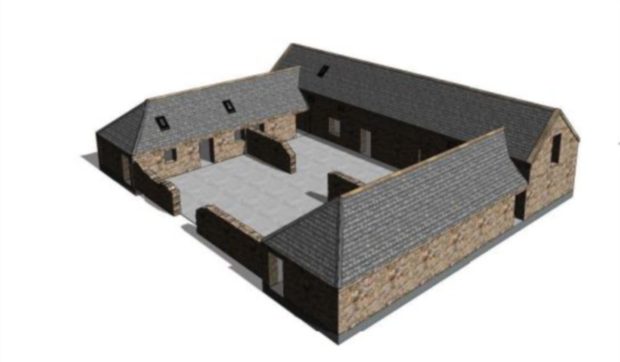 After protracted and often bitter discussion, Highland councillors approved resubmitted plans for the conversion of a derelict farm steading close to Culloden battlefield into a family home.
Previous plans were consented in 2015, and were due for renewal.
Applicant Mark Hornby had submitted new plans, materially the same, but with changes to the position of some outbuildings.
The Victorian steading at Culchunaig is within the Culloden Moor conservation and the Inventory of Historic Battlefields areas.
Planners said the proposals retained the character of the steading in a contemporary design, while the National Trust for Scotland and Historic Environment Scotland raised no objections to the plans.
Members of the south planning committee were divided.
Local councillor Roddy Balfour pointed out that in 2015 the area was not recognised as being in the battlefield conservation area.
He said: "From the emails I'm getting, the historians are folklorists, they get hold of all these stories and butter them up.
"The principle of development has been established and must now proceed, we can't do anything about it.
"The place is not being destroyed in the manner some people are claiming."
Councillor Andrew Baxter said he had spent a lot of time on the battlefield in the past three years.
He said: "I know how special it is to the diaspora, but we have to be realistic.
"The principle has been established and I'm content to support it."
Councillors Andrew Jarvie and Ron MacWilliam both tried to move amendments to refuse permission.
When their amendments fell foul of council policy, they both withdrew them, and the plans were approved.
Afterwards Mr MacWilliam, who also pushed unsuccessfully for a site visit, said: "It is impossible to get anywhere near a constructive discussion about protecting Culloden Battlefield from development.
"I will be proposing a new planning policy for the battlefield to tighten up the procedures that currently lead to decisions to routinely grant approval.
"I would like to see an automatic site visit to the battlefield area and an automatic referral to the planning committee.
"The presumption must be against development and whilst at the moment one of the multitude of policies tries to infer that, the words mean nothing in practice."
Professor Christopher Duffy of the Historian's Council on Culloden described the decision as 'deplorable.'
He said: "It takes no regard for the context, whether with respect to the landscape or the history, and it compromises the scene of  one of the most significant episodes of the battle when a skillful Jacobite countermove foiled the attempt of Lieutenant General Hawley to turn the right flank of the entire Highland Army."
From GSDC, Carolyn Seggie said: "With the approval of the application due to planning  permission having been granted previously we see the same situation as occurred  over Viewhill Farm.
"With regard to the importance of Culchunaig to the core area of the battle, which  has been proven by historians, this factor has been completely ignored yet again."