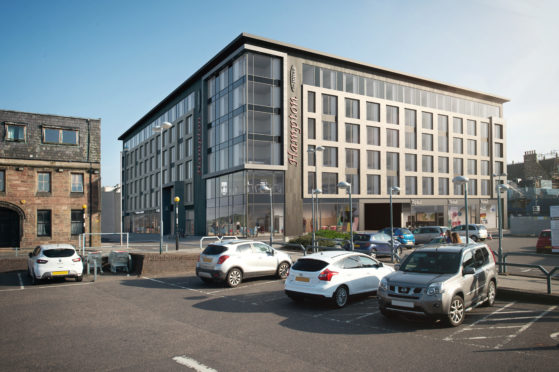 Highland councillors have given the nod to the construction of Inverness city centre's biggest hotel to date.
The Hampton by Hilton will be built on the site of a run-down car park in Rose Street and as part of the deal, the developer SRP Inverness Ltd, will build a dedicated bus and taxi lane alongside the hotel from Rose Street into the bus station at Farraline Park.
At 210 rooms, the hotel will be the biggest in the Highland capital, with council planners describing it  of high quality, contemporary design.
The hotel will have retail or office units on the ground floor, and feature glass frontages and a mix of finishes in light and dark natural stone.
Caithness stone is proposed for the main street pavements, while a paved courtyard will be created by the L-shaped building.
There will be 28 car parking spaces, with guests encouraged to use the multi-storey next door in Rose Street for overnight parking.
Planners said it is an appropriate land use within the general vision and approach set out in the city centre brief.
They dismissed concerns that the height and mass of the six-storey building could dominate local and distant views with a series of mock-up images which won councillors over.
Councillor Bill Lobban said: "This is not an architectural masterpiece – and who knew Lego did so many glass bricks? – but it's no worse than what's around it, and considerably better than the building it replaces.
"Overall it's a perfectly acceptable development."
Inverness West councillor Bill Boyd called it a real opportunity for the city and the Highlands.
He said: "The opening up of the bus station onto Rose Street is also a real opportunity to take a lot of traffic off Academy Street."
Council officials confirmed the council would adopt the new multi-use street-for pedestrians and cyclists, and one-way for buses and taxis- and would control the design, while the delivery would be by SRP Inverness, and constitute their developer contribution.
Stewart Campbell of SRP Inverness said he was delighted to get the go-ahead.
He reassured shoppers the small Rose Street car park will not close until January, and thereafter demolition would start, with a finish date for the whole project  of May or June 2021.
He said: "It's been a long road to get this far, and it will be a long road to completion, but we are delighted, because the Hilton is a strong brand to bring to Inverness, in a  great location."