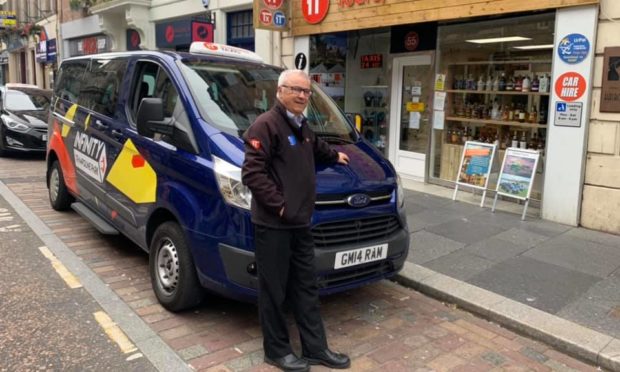 Tribute has been paid to a popular Inverness taxi driver who has died after a battle with cancer aged 66.
Graham Macleod was a well-known and popular face in the taxi circuit in Inverness and was well thought of by his colleagues and customers alike.
Mr Macleod, who originally hailed from Harris in the Western Isles, had been self-employed in the Highland capital running tours for visitors as well as getting locals around the city.
Previously he worked offshore as a crane operator before settling in Inverness around 38 years ago.
The 66-year-old was diagnosed with lung cancer in 2016 after visiting his GP when a persistent chest infection would not clear.
After several tests and a dose of antibiotics, Mr Macleod was sent for a chest x-ray where a tumour was uncovered. He later underwent an operation to remove the growth.
Mr Macleod bravely shared his tale with The Press and Journal later that year, as part of Lung Cancer Awareness Month in November 2016, in a bid to prevent others from having a diagnosis delayed by ignoring symptoms and warning signs.
His death has been met with much sadness in the taxi circle in Inverness as well as from the wider community.
Mr Macleod's daughter Maria Price said the outpouring of condolences and sharing of happy memories has been "heartening" for the family.
She said: "Dad passed away on Sunday night and he was in high spirits. His sense of humour was with him right up until he wasn't able to speak anymore which was good for us to see.
"We have seen the comments folk have left online which has been great – we never realised dad was so popular.
"We are hoping to have a memorial event in Inverness when we can get back together and return to normality to give people the opportunity to pay tribute to him."
Angus MacDonald, a close friend of Mr Macleod, said he was an "all round top bloke" who will be sorely missed.
Mr MacDonald said: "If ever you were feeling down or wanted a hand or help with anything Graham was always there for you.
"He would never see you stuck.
"Graham was a very happy person. He had been suffering with cancer and various other illnesses but he battled on and got on with it.
"He was one of those people, coming from the islands, that he had that mentality about him that it didn't matter what trouble he was going through, if he could help someone else he would and was always more than happy to do so."
Andrew MacDonald, chairman of Inverness Taxi Alliance, said: "Graham was a genuine guy and great stalwart of the taxi community.
"This is a very sad loss.
"Graham was well known to some of the boys who hire from me and they held him in pretty high regard.
"My best wishes are with his family at this sad time."
Mr Macleod leaves behind two daughters in Norma and Maria as well as three grandchildren in Stuart, Callum and Lily.
His funeral will take place on Thursday.