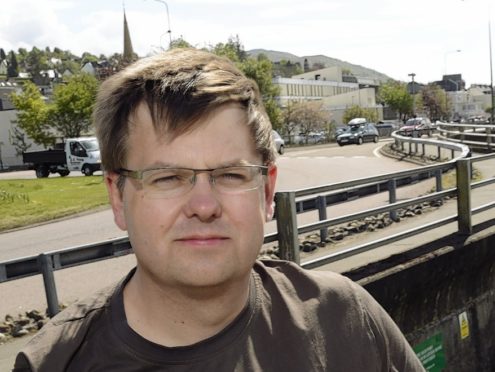 Members of Highland Council's two planning committees are in uproar about the manner in which the authority will deal with planning applications during the coronavirus crisis.
A group of senior councillors have announced that planning decisions will be made privately between the planners and the chairperson of the committee, which has been condemned as "undemocratic".
Meetings planned up to the end of June have been cancelled, with no papers available to view online, but the council says any decisions will be made public and published on its website.
If there is lack of agreement on the outcome, the committee bosses can defer the application to be voted on at a later date.
A council spokesman said the authority has a statutory duty to determine applications, and cannot hold them off.
But South Planning Applications Committee (SPAC) vice-chairwoman Carolyn Caddick called the move "worrying".
She said: "No papers are being sent out so we can't even see what's coming up, and the decisions are being made behind closed doors with one councillor.
"There are ways of carrying on with Inverness members coming into the chamber and maintaining social distance, and others taking part remotely as they do anyway."
The council says there is "insufficient support at this time to ensure a stable enough IT platform for the numbers who could be participating".
SPAC councillor Andrew Jarvie helms the council's licensing committee and says he is looking into using Skype or Zoom to enable licensing matters to carry on as normally as possible.
He said: "This proposal to allow one councillor to be judge, jury and executioner is quite horrifying."
Lochaber councillor Andrew Baxter described the move as "undemocratic and unacceptable".
He said: "An officer and one solitary councillor will be allowed to rubber stamp planning applications that will affect our communities and neighbourhoods.
"We have a large-scale tourism development, just outside Fort William, which will be decided without any public scrutiny."
North planning committee chairwoman councillor Maxine Smith last night defended the policy.
She said: "In this state of emergency things do appear to be less democratic because everything has to change.
"Always at these times, decisions have to be taken by leaders without referring everything back to others.
"It's not because they want to be in control, it's because it's the only realistic and practical solution.
"As chairs and planners we operate in an environment of complete integrity and I do hope that is recognised."
A Scottish Government spokesman clarified that the council was doing nothing wrong.
He said: "It is for individual authorities to decide how best to make use of their powers based on local circumstances."
This week Moray Council agreed a temporary change to the planning system that would authorise officers to make all decisions instead of sending large or controversial bids to councillors.
However, the move also gives authority to its new emergency cabinet, which is a cross-party group of seven members, the power to call in any application for debate.
Council convener Shona Morrison said: "It's correct to continue to allow scrutiny while keeping the planning system moving, the changes also allow for relevant members of the planning committee to sit on the emergency cabinet if required."
But the council's Conservative group thought the measures, which will be reviewed in June, went too far.
Group leader Tim Eagle said: "On balance, we felt that the very high level of delegation was not required given we would hope, as IT systems develop, some form of normal committee structure would be back from August."
In Aberdeenshire, the local authority has restricted the number of committees taking place for the duration of the lockdown measures, however key councillor meetings are still taking place via Skype.
The video recordings of these meetings, which have so far not been live-streamed for anyone to access as they happen, have been uploaded after they take place for anybody who wishes to watch them.
Decisions on matters including planning are still being decided by councillors at these online committee meetings.
Decisions that have been made using delegated powers, without going before committees, have so far included the decision to procure what's required for increased Skype communication due to the higher number of staff working from home.
A full list of decisions made using delegated powers by officers by reason of special urgency will be going before a full meeting of Aberdeenshire Council next week, the first one since major lockdown measures were first put into place.