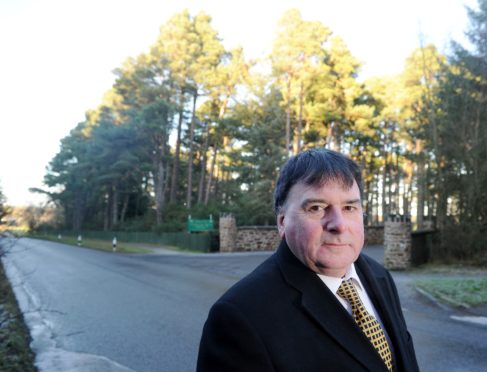 Controversial proposals for a holiday village near Culloden Moor are back before Highland Council once more, little more than a year after they were refused.
They have been resubmitted by developers still hopeful of securing planning permission in a move objectors have branded a 'kick in the teeth'.
They have campaigned forcefully to block the proposals over many months, claiming that if they were to go ahead it would be 'sheer desecration' of the battlefield.
Inverness Paving wants to build a four-star, £1 million holiday village with 13 lodges, a 100-seat restaurant and café and shop at the former TreeTop riding centre in Faebuie, a mile-and-a-half from the site.
The chosen location was reputedly the staging ground for government troops preparing to do battle against Bonnie Prince Charlies' Jacobite army.
An initial application was refused by the council under delegated powers on the grounds that it would not 'preserve, enhance or develop' the wooded site, citing both the Highland-wide development plan and the Culloden Muir conservation area.
At the time there were 87 objections to the development, including those from historical societies and organisations.
The revised application, submitted earlier this month, has attracted a further five objections from members of the public on grounds of the site's historic importance, a "poor archaeological report" and the development's "ecological impact".
Historic Environment Scotland (HES) has not objected.
Local councillor Ken Gowans said: "As with any planning application of this scale in the vicinity of the Culloden battlefield conservation area, it is likely to be high profile.
"However, regardless of the emotion such an application might generate, it will be determined in accordance with Highland Council's planning regulations and guidance.
"The recommendation will then be made by the planning officer for further consideration by councillors, either through delegated powers or at the planning applications committee."
Group Stop Development at Culloden (GSCD) say they want the Scottish Government to put a bill through parliament to give extra weight to the importance of sites such as Culloden battlefield when it comes to planning concerns.
GSDC spokesman George Kempik said: "We are discussing spearheading a campaign with like-minded organisations with that aim.
"The revised Tree Tops application comes as a bit of a kick in the teeth to the aims of our group as we are focused on protection of the actual battlefield, which extends beyond the enclosure the National Trust for Scotland shows to visitors.
"We will of course be doing everything possible to highlight the sheer desecration that will take place if Treetop stables are successful in their application."
Inverness Paving was yesterday unavailable for comment.
The company has previously said the development could create up to 25 jobs and 'considerably improve and enhance' the setting, which is invisible from the main battlefield site seen by visitors.