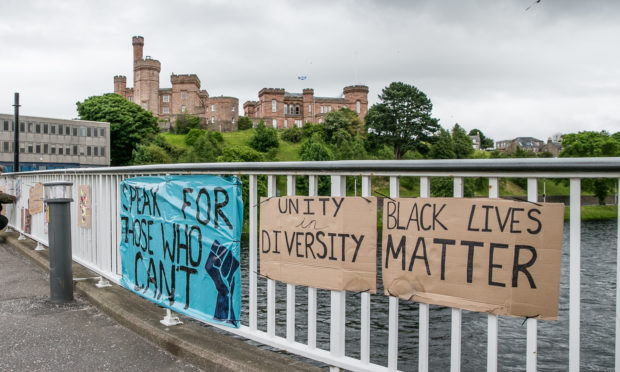 Posters and signs made to mark the Black Lives Matter protest in Inverness are to go on display at the city's Eden Court Theatre.
The hand-made messages and artwork were hung on the Ness Bridge at the weekend as part of the worldwide anti-racism movement.
After some were removed on Sunday morning, more signs were positioned on both sides of the bridge.
They were due to be taken down last night but will be displayed at the theatre, initially outside from next week, and later inside when the premises reopen.
A theatre spokeswoman said: "As Eden Court is closed we cannot yet exhibit them inside.
"To protect the works, we will find a sheltered place for them to be viewed outside for a two-week period.
"When Eden Court reopens we will exhibit the works in one of our exhibition spaces before allowing them to be collected by their owners or placed in our archive."
Jaymie Fraser, who started the local Black Lives Matter Instagram page, said: "It is really positive.
"I didn't want to clear the bridge and have that just be the end of it.
"So many people put a lot of hard work, time and emotion into this. Eden Court is a place where all ages go and can see the posters."
Catherine Welsh, who helped organise the event via Facebook, said: "This is great news for Inverness and the Highlands.
"The posters the people of Inverness have made have been incredible for raising awareness for Black Lives Matter and highlighting that the people of Inverness stand with the movement."
"From our first 20 posters being torn down, to some horrible comments on social media we've witnessed under the news stories, we can see that racism does still exist in the Highlands."