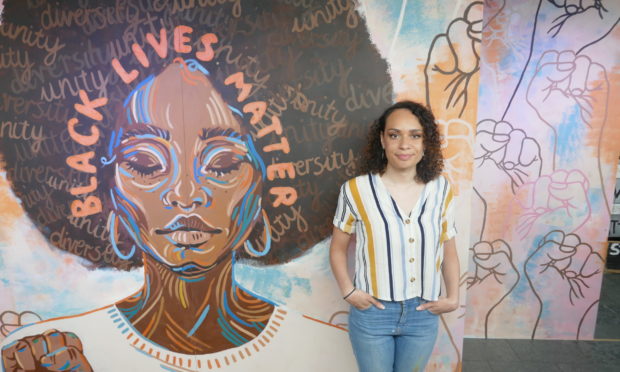 A specially-commissioned artwork has been created as part of Eden Court's Black Lives Matter display.
Placards and homemade pieces of art displaying unity with the movement have been gathered after they were on attached to railings and bridges in the Highland capital last month.
Local illustrator Jacqueline Briggs has been commissioned to create the artwork that forms the central focus of the temporary installation at the north theatre.
The display also forms part of the Scottish Mural Trail which has been supported by organisations including Edinburgh International Festival, Queen's Hall Edinburgh, and Glasgow's Kings Theatre and Theatre Royal.
Black Lives Matter mural to be displayed at Eden Court as part of national trail
Miss Briggs, who is based at Inverness Wasps Studios, is half Scottish and half Papua New Guinean and has drawn on inspiration by the beauty of the contrasting landscapes and cultures of her dual heritage in her artwork.
She said: "A celebration of the diversity of people who live in the Highlands, it is really exciting and poignant to have local banners of support for the movement fully incorporated within the artwork.
"Displayed together, I hope to encapsulate the importance of unity and compassion as we strive for equality."
Revealed today, the installation is visible through the restaurant windows to ensure social distancing considerations can be appropriately observed, however, will still be on display once Eden Court reopens.
Upon the displays conclusion, posters and banners gathered as part of the united stance on Ness Bridge will then be handed over to the Highland Archive Centre.
Lucy McGlennon, head of engagement at Eden Court, said: "As a publicly funded organisation, we take our civic responsibility seriously; we want everyone to feel like they have a place at Eden Court and we proudly curate a diverse artistic programme that creates space for artists and amplifies marginalised voices within our community.
"In our response to the global Black Lives Matter campaign we felt two things were vital. Firstly, that we proudly state that Eden Court denounces racism. And, secondly, that we made space for an artistic response.
"On invitation to join the United We Stand mural project, we therefore commissioned this beautiful piece of art, by Jacqueline Briggs, which hosts and interprets the pieces created by our local community.
"Working alongside Jacqueline as she has created this mural has been a genuine pleasure; it's felt exciting, it's felt powerful and most importantly, it feels right.
"I'm delighted there is space in our city to amplify the Black Lives Matter campaign."
The campaign started following the death of George Floyd in America.
Edinburgh based creative producer Wezi Mhura, the creator behind the Black Lives Matter – Scottish Mural Trail, said: "The Scottish Government says it recognizes the strength in its aspirations to a more equal and more diverse society going forward, and we hope this mural trail will help to start the conversations that need to be happening now.
"It's been amazing to connect in with so many talented artists, with roots in so many different places, who have been so enthusiastic about getting behind this project."