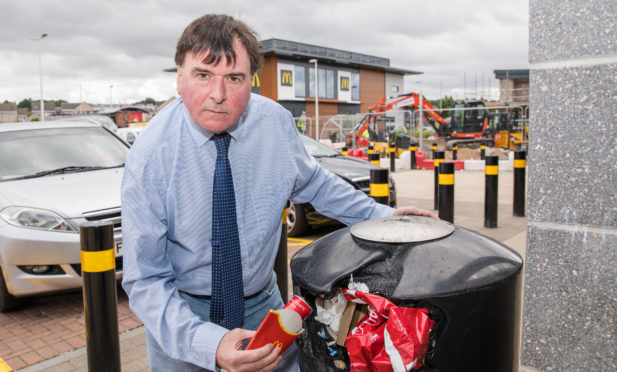 The operators of an Inverness retail park have pledged to increase waste patrols after overflowing rubbish bins left the area strewn with litter.
The busy Inshes Retail Park has suffered from a number of waste management issues in recent years, prompting operators Aberdeen Standard Investments to pledge they would find a solution.
But concerns about littering have been raised once more as lockdown has eased, shoppers have returned and the McDonald's drive-thru has reopened for business.
Disgusted Inverness councillor Ken Gowans says the bins and footpaths awash with litter portray the wrong message to prospective shoppers and visitors.
Officials from Highland Council's environmental health department have visited the area to investigate the concerns raised.
They are urging residents to report incidents.
ASI have pledged to increase waste patrols, while McDonald's has also said it will step-up its own waste management efforts.
"This is a fairly new retail park and it should be attracting young families and shoppers into the area.
"Instead it is unsightly and it's a disgrace. It is simply not good enough.
"There seems to be inadequate provision for emptying of the bins right now and that is quite a concern given the health and safety concerns that everyone has.
"It also attracts seagulls, crows and other vermin to the area and with that, the threat of disease. It is not the image we want to portray for our area."
Mr Gowans says more needs to be done to find a resolution to the problem.
He added: "This is very disappointing as this is not the first time I have had to raise this issue.
"These bins are very quickly becoming full and they need to be emptied much more frequently than they ever have.
"I will continue to monitor it going forward."
A spokeswoman for Aberdeen Standard Investments said: "We have been liaising with the tenants at Inshes Retail Park in Inverness regarding the litter and, as of today, increasing the daily waste collections to ensure there is capacity for the volume of litter.
"We will continue to monitor the situation following these changes."
A council spokeswoman said: "Inshes Retail Park is private property. We can investigate, but do not remove items from private land."
She added that the council can levy fines for the dropping of litter (£80) and more significant sums for fly-tipping.