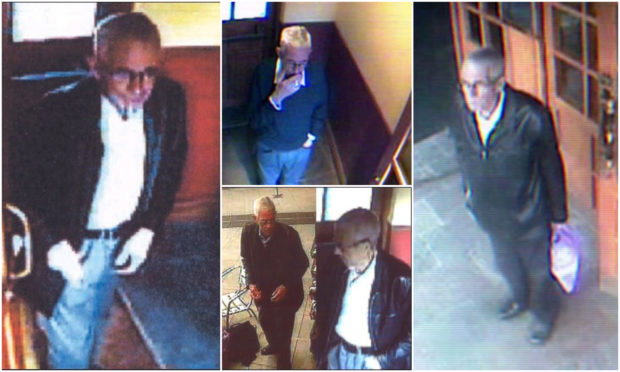 A north forensic artist is helping a bid to identify a man who mysteriously died in Ireland more than a decade ago.
Hew Morrison, from Inverness, has helped create a detailed post-mortem depiction of the man who went by the alias of Peter Bergmann when he visited the seaport town of Sligo in northwest Ireland in June 2009.
The man used the alias to check into the Sligo City Hotel where he stayed during his visit.
Staff at the hotel reported the man as having a strong German accent.
The unidentified man was captured on CCTV throughout the town over the course of his stay, however, his actions and intentions are still not known more than 11 years on.
His body was found at Rosses Point Beach, a popular recreation and fishing area, on the morning of June 16.
In the days prior to his death, the man was seen on security camera footage leaving the hotel with a purple plastic bag full of items or personal effects. However, when he returned from his long walk, the bag was nowhere to be seen.
The man used blind spots of surveillance cameras, and investigators say that his movements were very meticulous and methodical – almost as if he knew where to hide items to prevent him from being identified.
The man was identified as being in his 50's to early 60's, of a slender build with grey hair and dark eyebrows.
He measured in at just over 5ft10in, with blue eyes and a tanned complexion. He was said to be clean-shaven and well groomed.
The case has remained a mystery to many for years, with Mr Morrison's expertise hoping to shed some light on just who the man claiming to be Peter Bergmann was.
Mr Morrison said: "I heard about this case online last year on the tenth anniversary of the occurrence.
"I read about the case in an Irish newspaper and became fascinated with the story behind the possible identity of who he was.
"The main question being, are people still looking for him? Did he have a family? Why did he go to the lengths he did to conceal his true identity?
"It is fundamentally important to me that nobody should be left nameless, unidentified and that there are possibly people still looking for them, that is why I took on this task.
"I used several high-quality stock images of human faces to recreate the man's features as they were shown in the mortuary photograph and the CCTV stills.
"By using clearer, better quality images and digital imaging software, once they are altered to match the other images, a clearer, more portrait-or passport type of image is produced.
"I hope that this man can be brought some dignity, no matter how long it takes to do so."
Any information that could assist in identifying the man is asked to be shared with Sligo Garda on +353719157000 or by logging a case with Interpol through their website.