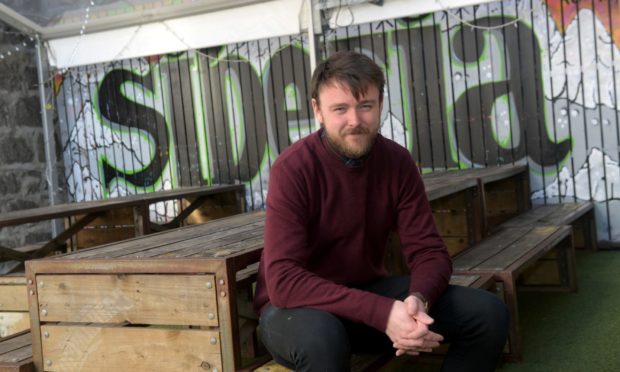 The Scottish Government is being pressured to immediately shut down any licensed premises flouting coronavirus rules, with a number of north-east and Highland hospitality bosses behind the cause.
The calls are the first to come from new trade body, the Scottish Hospitality Group (SHG), set up to steer the industry through a claimed "existential crisis".
Some of the country's largest restaurant and bar businesses have signed up, aiming to safeguard their trade against so-called rogue operators.
Director of Aberdeen bar and hotel Siberia, Stuart McPhee, is among the founding SHG members, representing the recently established Aberdeen Hospitality Together trade group too.
Mr McPhee told The P&J: "This is a plea from operators going above and beyond, as far as possible, for there not to be a blanket approach, like there was during the Aberdeen lockdown.
"We want to avoid that scenario replicating itself with a positive dialogue.
"This is an existential crisis, there are a litany of factors completely outwith our control.
"Take Wednesday for example, we woke up trading under a policy of three households, then halfway through the day that changed to only two.
"That caused more than 50 cancellations, just on the basis their booking wouldn't fit into the shifting goalposts."
He added: "The reality is the lowering of the number of household groups challenges the economic viability for a lot of operators – big and small – across the sector: cafes, restaurants and so on.
"The threat, not only to livelihoods and jobs but to the cultural existence of the hospitality sector as we know it, is really high.
"For example, forecasting to Monday, as it stands just now, I have one booking for four covers for the whole day."
Other members include G1 Group – which runs The Illicit Still and The Palm Court Hotel in Aberdeen, Mor-Rioghain Group – owner of three Inverness pubs including The Gellions and The Mains Of Scotstown Inn in Bridge Of Don – and owners of Granite City night spots Paramount and The Spiritualist, Signature Pubs.
Nationwide chain owners The DRG Group – which owns Di Maggio's, Cafe Andaluz and Amarone – is also signed up.
Together, SHG members employ close to 6,000 staff and produce a combined turnover of more than £275 million.
Their calls comes as Nicola Sturgeon yesterday revealed tighter lockdown restrictions may be imposed in Lanarkshire, as a coronavirus outbreak there caused "particular concern".
The first minister said provisional statistics indicated the area had the second-highest number of new cases recorded overnight, up by 39, as the figure across the country rose by 175 in the same period to 22,214.
Lockdown restrictions on household visits across Glasgow, East Renfrewshire and West Dunbartonshire were continued for a further week on Monday, having first been introduced on September 1, and the area covered was extended to East Dunbartonshire and Renfrewshire.
A total of 269 people in hospital are confirmed to have the virus, up three in 24 hours, with eight in intensive care.
Following the warning of potentially stricter lockdown rules, SHG national spokesman and hotelier Stephen Montgomery said: "The very future of our industry is at stake.
"The Scottish Government simply must not take a blanket approach if a few rogue licensees fail to do the right thing.
"If you shut down restaurants and bars, you are massively increasing the risk of more house parties and irresponsible gatherings, where track and trace is almost impossible."
More than 600,000 people have downloaded the Protect Scotland mobile phone contact tracing app since its launch on Thursday.
A Scottish Government spokesman said: "We know there may be an increased risk of transmission in restaurants and pubs which is why we have made it mandatory for hospitality premises to collect contact details for all customers, visitors and staff, and share with Test And Protect when asked, in the event an outbreak or cluster of cases being tracked back to the premises.
"We know the vast majority of businesses across Scotland are complying with this, however the small number who fail to follow our guidance are putting the continued opening of hospitality at risk.
"People should report concerns relating to their local environmental health service which will give advice and can investigate when appropriate.
"We would also urge members of the public to avoid premises which are failing to follow the relevant guidance to provide a safe environment for patrons."
The Scottish Government produced an updated Q&A – responding to questions that businesses have raised – on its website.