Inverness has the potential to be a major hub for cyclists exploring Scotland on two wheels.
With more people keen to enjoy the outdoors using sustainable travel, cycling and cycle tourism is becoming more popular.
It is expected to get a further boost when the UCI Cycling World Championships come to Scotland this year.
Renowned cyclist and film maker Markus Stitz hopes his latest book will also inspire people to become more adventurous on their road trips.
Many cycle routes start in Inverness
'Bikepacking Scotland' features 20 specially-curated multi-day journeys for gravel, mountain and road bikes across Scotland.
The routes are suitable for beginners and experts, and most are accessible by bike-friendly public transport to support low-carbon travel.
A number of cycle routes start or finish in the Highland capital, including the Caledonia Way (Inverness-Campbeltown), Great Glen Way (Inverness-Fort William), Lochs and Glen Way (Inverness-Glasgow), Far North Way (Inverness-John O'Groats), Loch Ness 360° and the NC500.
In his book, Stitz, founder of Bikepacking Scotland, also covers a route starting and finishing in Inverness which covers whisky distilleries in Moray.
In addition, he details an Inverness-Glasgow route following youth hostels along the way.
'For me, cycling is one of the purest ways to discover Scotland off the beaten track, leaving no other trace than a few tyre marks.
"All the bikepacking adventures I have had in Scotland have created lasting memories, even though at times it was a steep learning experience.
"Inverness has great potential to be a hub. It is a well serviced city with regards public transport.
"If people are new to bikepacking they want some sort of back-up and it gives them the option to do short or long routes.
"The thinking behind my book is to give both short and long routes, so people can start off small and progressively work themselves through the routes and then try a longer adventure."
City a good place for cyclists
Elmar Jünemann, from Germany, who accompanied Stitz on a recent cycle trip said Inverness is a good place for cycling experiences.
"The city is absolutely stunning and offers varied landscapes in its surroundings."
The book also features cycle routes in the Cairngorms, where earlier this year Stitz  shot a film of a 165-mile gravel bike journey through the park.
Last year he teamed up with NC500 to create a range of on and off-road cycling itineraries for the 516-mile journey.
And, with fellow round-the-world cylists Mark Beaumont and Jenny Graham who feature in the book, he filmed a 500-mile cycle around Argyll and the Islands.
According to VisitScotland, cycle tourism accounts for 338,000 road cycling trips, 1.3 million overnight stays and £154 million for the Scottish economy.
Lindsay Mackinnon, of Inverness-based bike hire firm Ticket to Ride, says there has been an increase in cycle touring and bikepacking on waymarked trails.
"It has become more appealing to people who are trying to get into the sort of things they are inspired to do from reading Markus's book.
"The book inspires people to be more adventurous and the waymarked trails can be a stepping stone to gain confidence."
He said cycling is a sustainable form of transport and visitors spend on accommodation and food is helping some businesses still recovering from the pandemic.
A return to the golden days
Graham Sheach, marketing manager for Hostelling Scotland, said the rise in backpacking is having a positive effect on hostelling.
"It is absolute delight to see so many bikepackers utilising our hostel accommodation.
"It really does feel like we have gone full circle and are seeing a return to the golden days where hostelling and cycling went hand in hand.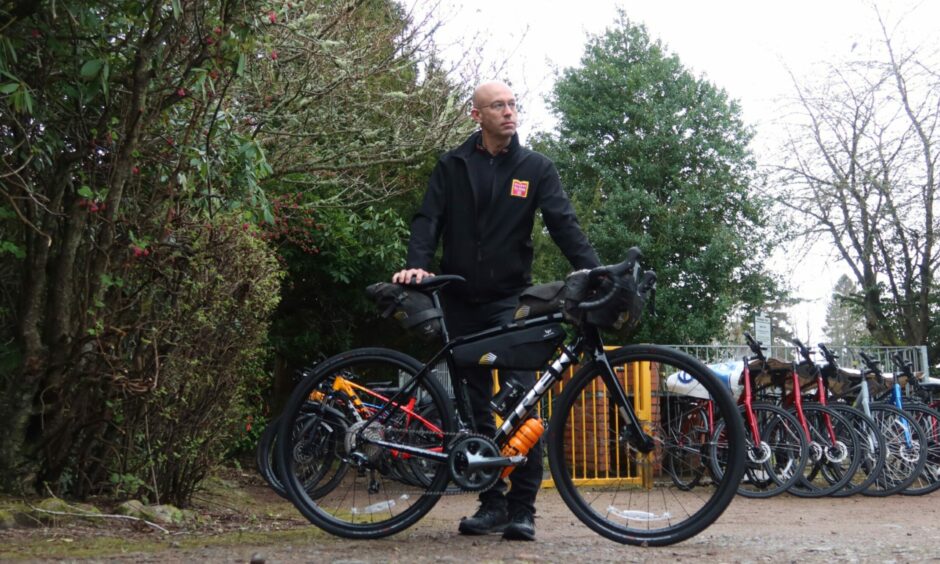 Lindsay Mackinnon of Inverness-based Ticket to Ride"I'm glad to say hostels are far more comfortable these days, offering fantastic facilities such as drying rooms and the ability to self-cater – very much appreciated by cyclists looking to relax after a long day on the saddle."
Are you interested in all the latest news and updates from Inverness? If so, why not join our new Facebook group.