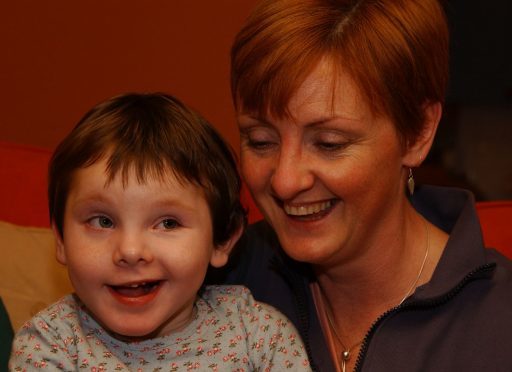 The parents of a brain damaged teenager who sued doctors for £10.5 million have received an apology for the time it took for a judge to issue his decision.
Jacqueline and Andrew MacLeod failed in their bid to prove that doctors at Raigmore Hospital in Inverness acted negligently when delivering daughter Rowan in June 1999.
The little girl is said to have suffered brain damage after being born. She now has cerebral palsy and is completely dependent on her family for everything.
Judge Lord Kinclaven took almost a year to issue his decision that lawyers acting for the couple hadn't proven that medics acted incorrectly.
However, the family's legal team returned to the Court of Session to argue that Lord Kinclaven took too long to issue his opinion.
They also argued that his decision demonstrated "that he had an adequate grasp of the relevant medical science to make his findings in fact".
The family's lawyers also claimed that the judge gave "little or no explanation as to why he preferred certain expert evidence."
They claimed that the case needed to be heard again before a new judge. On Thursday, judges Lord Brodie, Lady Dorrian and Lord Drummond Young ruled that their brother judge acted correctly in dismissing the compensation claim.
However, the appeal judges ruled that Lord Kinclaven took too long to issue his opinion. In an opinion issued at the Edinburgh based court,
Lord Brodie wrote: "We accept that the time taken for the issue of the Lord Ordinary's opinion was excessive.
"The pursuer's seek no specific remedy in respect of that but we consider that they, and the defender, should have an apology from the court for what was its failure to ensure that an opinion was issued within a reasonable time.
"The Lord Ordinary, (NOTE TO SUBS – legal expression used to describe civil judge who first hears the case) quite deliberately as it would appear, adopted what we have described as a terse style of expression. "Generally speaking, a succinct judgement is to be commended but in this case that was achieved at the expense of sufficient explanation of the various conclusions that the Lord Ordinary reached.
"The argument came to be: because the Lord Ordinary did not properly explain himself his conclusions must be set aside and the proof must be heard over again.
"However, that brought them face to face with what proved to be the insurmountable hurdle that it simply not how our appellate process is conducted. "Thus, while the reason why the pursuer's case fails can be described as a procedural difficulty, in truth the difficulty appears to us to be more substantive."
The appeal opinion tells of how Rowan, who lives with her family in Fort William, was born in the early hours of June 2 1999. Lawyers acting for her family claimed that the medics who delivered her acted negligently during the birth.
They claimed that medical staff at Raigmore didn't monitor Rowan properly during the birth. It was also claimed that she suffered brain damage as a consequence of the actions of the medical team.. Lawyers acting for Highland Health Board – the organisation responsible for Raigmore – claimed that doctors acted correctly.
They claimed that Rowan's mother was a diabetic and that diabetes is "associated with significantly higher incidents of foetal abnormality and morbidity." Evidence was led during a 22 days of proceedings at the Court of Session in 2012.
Following the case, lawyers in the case addressed Lord Kinclaven. The judge told the lawyers in the case that he would issue his opinion at a later date on February 7 2013. He didn't issue his opinion until January 2014.
The judge concluded that the family hadn't proven their case that medics had acted wrongly. Lawyers acting for the family wanted the appeal judges to order that the compensation case be heard again. However, the appeal judges ruled that there wasn't a legal need for the case to be heard again. Lord Brodie wrote: "The pursuer's case cannot succeed. The reclaiming motion is refused