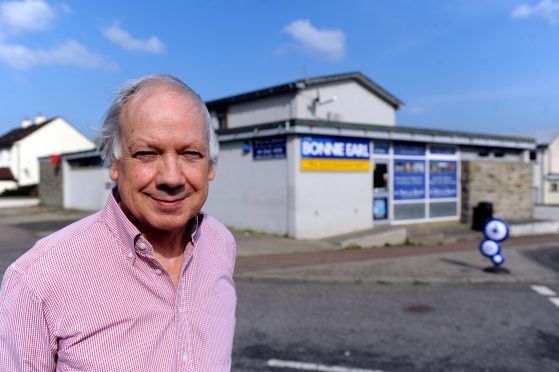 A Moray shopkeeper fired a parting shot at the local authority as he confirmed the closure of his grocery store after almost 60 years in business.
The Robson family has owned the Bonnie Earl pub and shop in the north of Elgin since 1959.
But it will stop supplying locals with their daily essentials – and become another vacant premises in the town – when it closes for the final time next Saturday.
Owner Fraser Robson said he regretted that the store, which has been "at the centre of life in Bishopmill" for nearly six decades, could not live on under new ownership.
And he criticised Moray Council for rejecting retail giant Tesco's application to take over the site in 2014.
Mr Robson said he had planned to retire at that point, with the Bonnie Earl shop under new ownership and the pub converted to accommodate a larger Tesco Express store.
But the proposals were scuppered when council planning officers ruled there was insufficient parking space to cater for an expanded grocery shop.
Tesco's application was rejected by a single vote during a meeting of the authority's planning committee in November, 2014.
Now, Mr Robson has resigned himself to leaving yet another empty shop in Elgin as he shuts up.
He said: "The council missed an opportunity two years ago, with the Tesco proposal.
"I wanted to retire while leaving a convenience store at Bishopmill, which would benefit the community.
"I think its absence will be felt, especially by older people who don't have transport."
Mr Robson's father built the Munro Place shop and bar in the late 1950s, and for a period in the 1960s it operated a casino upstairs.
Its current owner took it over in 1979, and yesterday said he "would miss the locals" when it shuts.
He added: "We have had very loyal customers, our regulars have been fantastic."
Mr Robson added that the Bonnie Earl pub would stay open, but he would be "cutting back" on his other business commitments.
The Bonnie Earl shop will remain on the market along with the adjoining pub, and Mr Robson hopes to find a new owner willing to take both on.
The building is being offered with a £275,000 price tag by selling agents Bruce and Company, who describe it as an "excellent investment opportunity".
The decision to reject Tesco's application to lease the site came down to the casting vote of then-planning committee chairman, Douglas Ross.
Planning officers had recommended  it be blocked on the grounds a  lack of adequate parking spaces  would lead to an increase in on-street parking  and affect road safety.
Yesterday, Mr Ross  stressed that Moray Council had been willing to endorse Tesco's plans – as long as parking issues were resolved.
Mr Ross said: "This was an application which the committee was keen to approve, to ensure the building remained in use.
"But there were issues with parking, and while the committee refused the application as submitted, we encouraged the owner to come back with amended plans to resolve these issues.
"Transportation officials have devised  a solution to ensure the area is safe for pedestrians and vehicle users, and those plans remain available to any developer who wants to progress them."
Last night, a Tesco spokesman said the firm was "disappointed" its proposals were knocked back.
He added: "We are no longer pursuing a Tesco Express at the Bonnie Earl."