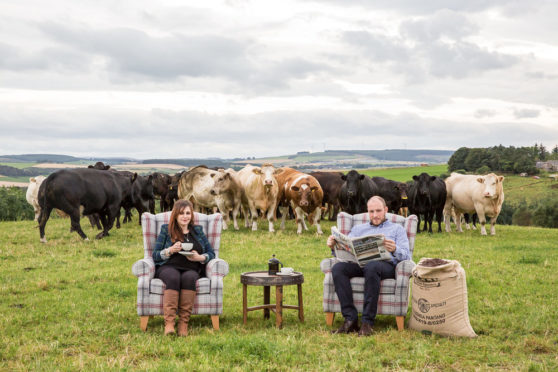 An engineer who left his career in the oil industry to open up a cafe hopes his success will inspire other businesses to breathe new life into a Moray town.
Russell Morrison, 33, and his dental nurse fiancee Jemma Mathers, 26, launched their business on Keith's Mid Street at the end of last year.
The historic Greigs building had been slowly dilapidating in the decade following the closure of the department store.
But the couple were inspired to turn it into the Square Roots cafe through their love of Miss Mathers' family's traditional farmhouse cooking.
Many of the cakes served up in the shop are made from recipes in her grandmother's old receipe book, a handwritten jotter.
Mr Morrison decided to find a new career after suffering from the effects of the oil and gas downturn and is pleased the business is such a success.
He said: "We've never had a business like this before or the right experience, but it shows what you can do.
"We know it's challenging but it would be really good for the town if it inspired others as well.
"The main street does have a few empty stores, so hopefully this can help to bring in customers and visitors."
The landlord of the building was offered a £142,000 grant from Keith's conservation area regeneration scheme (Cars) to renovate it in 2016, rebuilding its roof and windows.
It was then left for the couple to refurbish the interior of the building.
Mr Morrison said: "The feedback has been really positive so far and I think the general consensus is that people are happy something has been done with the building.
"I'm an engineer and I have been used to the offshore industry but it has always been my ambition to start a business.
"With the downturn in the industry, it felt like it was as good a time as any to give it a go.
"And when I found out about the building, it all came together."
Mr Morrison said the couple had faced challenges in areas such as recruitment while launching their business which had taken up a lot of time, but said they had accepted it was all part of the process.
But he said all the efforts they had put in to the cafe had been worth all the hard work.
He added: "It's been really enjoyable to have satisfied customers and good reviews – it's been really exciting."