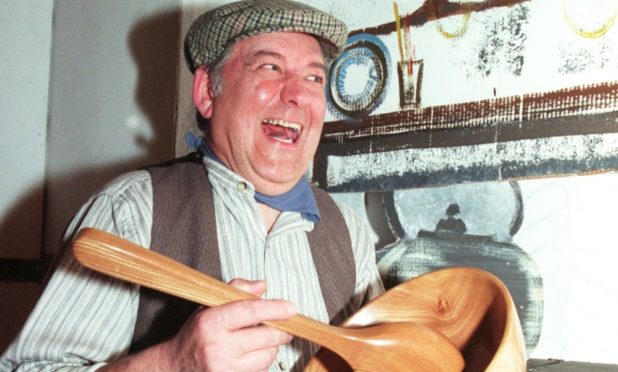 After pounding the beat across the north-east for decades as a policeman, Eric Simpson decided to plough his energy into something altogether different when he retired.
Hanging up his uniform and putting on tweeds and a flat cap, Mr Simpson discovered a passion for traditional bothy ballads – the Doric tunes which farm labourers sang in years gone by as they went about their hard manual work.
He became so good at performing that his songs were included on records and his "proudest moment" came when he was declared "champion of champions" during a competition at Elgin Town Hall.
Following his death at the age of 88, family and competitors have paid tribute to the devoted family man and dedicated entertainer.
Daughter Lesley McKen said: "He was just absolutely wonderful, he was always there  for us.
"He took so much pleasure and interest in his grandchildren and became a big part of their lives."
Hector Riddell, from Deeside, has won the coveted porridge bowl and spoon trophy presented to the bothy ballad "champion of champion" winner at Elgin Town Hall six times.
He said he would forever associate Mr Simpson with his signature tune, The Alford Cattle Show.
Mr Riddell added: "Perhaps from being a policeman, he had a different attitude to the more social side of things and he wasn't one for celebrating after shows.
"But he was aye good for a bit of banter, and highly thought of as a singer with his own positive style."
Mr Simpson was born in 1931 at Rosehearty, and his father's work as a farm servant meant he and his two sisters travelled around the Fraserburgh area while growing up.
He became part of the Scottish North Eastern Counties Constabulary in Banff in 1952.
Mr Simpson would serve in Buckie, Turriff, Bucksburn, Nairn and Fochabers during his time on the force.
It was while in Turriff that he met his wife Isabel, and they married in 1957. Lesley was born in 1967.
He drew his career to a close in Elgin as a sergeant, and retired to nearby Mosstodloch in the mid-1980s.
Given his agricultural upbringing, it was only natural that he always had an interest in traditional Doric culture.
And the former policeman turned that interest into a passion for Bothy Ballad singing after leaving the force, taking part in festivals all across the north-east.
Mr Simpson later joined the Elgin Strathspey and Reel Society as a non-player and enjoyed visits to Orkney and Denmark.
He also sang at many concerts and in nursing homes.
Mrs Simpson died suddenly in 1999 and he moved to Blairgowrie to be near his daughter and grandchildren Jade and Gillian in 2010.
Mrs McKen said he revelled in his role as a "babysitter, dog walker, chief cook and bottle washer" and taught the girls how to garden and speak Doric.
Mr Simpson was diagnosed with a form of leukaemia in February and died on June 13.