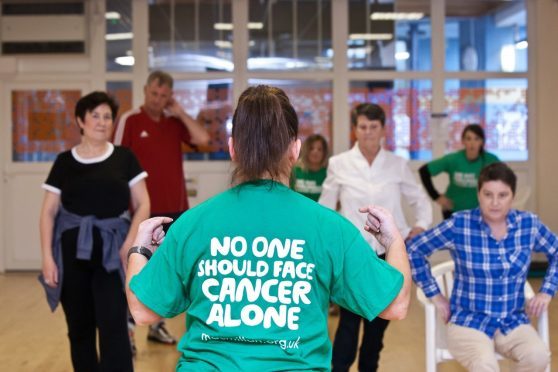 A leading cancer charity is looking for volunteers to help patients in the north-east to get active.
Macmillan Cancer Support has teamed up with Aberdeenshire Council to launch physical activity classes across the region to help those affected by the disease become more active.
Move More Aberdeenshire has been specifically designed for cancer patients and includes walking groups, gardening, gentle movement sessions and circuits-based activity classes.
The aim of the initiative is to help people affected by cancer stay involved and active within their local community.
The charity is now appealing for volunteers to help get the scheme going and provide support for trained exercise instructors who are leading the classes.
Last night Katie Boddie, Macmillan's outreach and communities officer, said: "We want to make sure that everyone affected by cancer has access to appropriate physical activity opportunities but we need help to achieve this.
"This is an ideal opportunity for anyone who wants to make a difference to the lives of people affected by cancer in the local community and be part of an innovative project at the same time."
The charity are also looking for volunteers to take the proposed gardening and walking groups. Volunteers would need to be available for about two hours a week on an on going basis for classes in Peterhead and Fraserburgh.
Training and support for all volunteers will be provided by the project leaders.
Macmillan Cancer Support was one of 10 official partner charities for the 30th Baker Hughes 10k this weekend.
More than 3,000 runners raced to the finish line at Aberdeen beach as part of the annual running festival.
Each charity had a stall in the race village, where spectators made the most of family attractions including a bouncy castle, games and activities and science demonstrations.
For more information about Move More Aberdeenshire or to get involved call 01467 534 360, e-mail movemore@aberdeenshire.gov.uk or visit Aberdeenshire Council's website.