An Aberdeenshire councillor has been suspended for six months after lobbying colleagues about a proposal to build a controversial wind turbine on his farm.
Turriff member Sandy Duncan first submitted plans to build a 150ft turbine at his Beechwood farm, near Forglen, three years ago.
But, after a protracted planning and court row, the scheme was finally rejected in February
Cllr Duncan, who was accused of "cronyism" by political opponents, appeared before a Standards Commission hearing in Aberdeen yesterday, facing allegations he breached three parts of the councillors' code of conduct.
The former SNP councillor, now an independent, admitted misusing his email account to contact members of the Banff and Buchan area committee who were considering the planning application.
He also acknowledged that his behaviour could be seen as abusing his elected post to get preferential treatment.
But despite strongly denying a third allegation that his actions amounted to "private lobbying" of five SNP party colleagues as well as two independents, the hearing panel concluded Mr Duncan had breached the code.
Chairwoman Julie Ward said the panel accepted Mr Duncan's "previously unblemished record" and acknowledged the fact he referred himself for investigation.
But she said: "He nevertheless should have ensured he kept his role as an applicant and that of a councillor separate and should not have used council facilities, sought preferential treatment or sought to lobby other councillors in respect of a personal matter.
"A failure to keep personal interests separate and distinct can result in council decisions being legally challenged and can erode public confidence and trust in local government and the democratic process."
Mr Duncan said he sent the emails as an applicant, not as a councillor – which members of the public are entitled to do.
Mr Duncan explained he was unable to address the committee in person because he was having a prearranged medical procedure and that the agent overseeing the project had gone into liquidation.
He added: "I bitterly regret ever having applied for a turbine".
Mr Duncan is suspended from all decisionmaking committees for six months, but remains a serving councillor.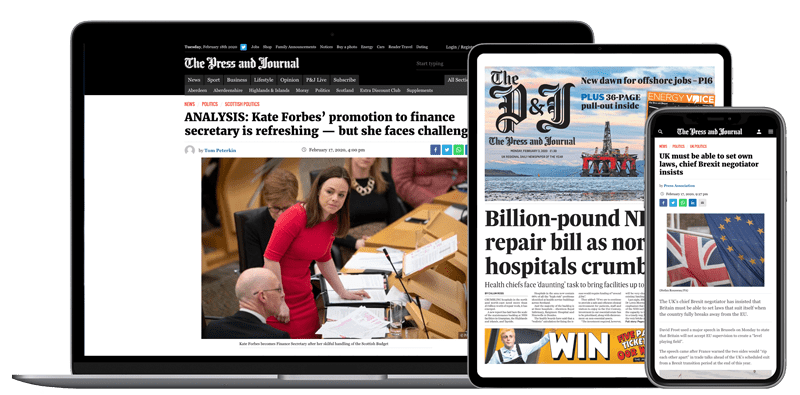 Help support quality local journalism … become a digital subscriber to The Press and Journal
For as little as £5.99 a month you can access all of our content, including Premium articles.
Subscribe