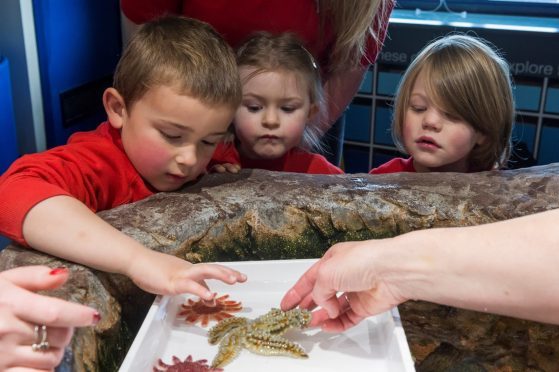 The residents of a north-east aquarium are taking a summer holiday on a farm while a refurbishment of the visitor centre continues.
Macduff Marine Aquarium is currently the midst of a major overhaul of its exhibits to mark its 20th year.
The Banffshire attraction has been closed to visitors until the autumn, but the aquarium team is sending some of their favourite attractions to the Aberdeenshire Farming Museum at Aden County Park.
The new mobile touch pools will house rocky shore creatures including starfish, hermit crabs and sea urchins.
As well as introducing the animals, aquarium experts will also have shells and other artefacts to hand to show visitors during daily interactive workshops.
Councillor Gillian Owen, chairwoman of the council's education committee, said: "Everyone deserves a good holiday, so while Macduff Marine Aquarium is being refurbished, we're taking this opportunity to introduce its inhabitants to some new surroundings and visitors at Aden Country Park.
"This is your chance to get close to sea life and discover how starfish, crabs, urchins, anemones and other marine creatures make their living down on the shore as the aquarium's rock pool creatures swap surf for turf for a week."
Deputy council leader Peter Argyle added that the on-going refurbishment at the aquarium is "going very well". The rock features within the main kelp tank will be rebuilt over the next few weeks.
The work will ensure the attraction can remain open for another 20 years.
The pools will be open between 10am-4pm from Thursday, July 13 until Tuesday, July 18. They are free to visit.