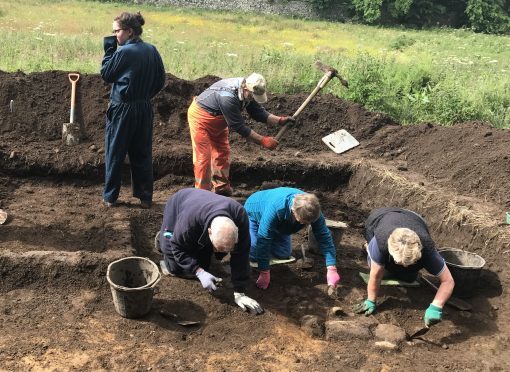 A team of archaeologists and volunteers have uncovered what are believed to be two prehistoric buildings near a north-east country park.
Archaeologist Alison Cameron has been leading a dig near Aden Country Park as part of the search for Buchan's lost monastery.
Last year, searches for the Monastery of Deer uncovered some medieval remains, but nothing early enough to belong to the religious structure which is understood to have housed Scotland's oldest manuscript.
Now, a fresh investigation led by Mrs Cameron has uncovered two further structures.
But, in this instance, the buildings which have been unearthed are considered to be too old to be part of the missing monastery.
Mrs Cameron explained: "We found two structures based on the geophysical survey. They might both be late-prehistoric.
"One was made up of a circle of post holes and one had a hearth in the centre and a post and a wattle wall had been built near the hearth, probably to protect it from the wind."
She said the find may be evidence of a metal workshop and the posts in the structure were "replaced many times".
"I have put in samples of charcoal for dating," the archaeologist added. "We are looking for early medieval structures associated with the early Monastery of Deer and it is unlikely these structures are as late as that.
"But we certainly have found a group of buildings and we are hoping to go back and do more work there."
She added that a number of artefacts, including hand-made pottery and several flints were also recovered.
Mrs Cameron will be joined by students from Aberdeen and Edinburgh universities as well as local volunteers and members of the Book of Deer Project.
The search for Buchan's lost monastery is on-going.
The building is understood to have housed the Book of Deer – a small gospel work dating back to before 1100AD.
The manuscript gives historians an insight into the early church and society of the period, and is the only pre-Norman text from a region formerly occupied by the Picts.