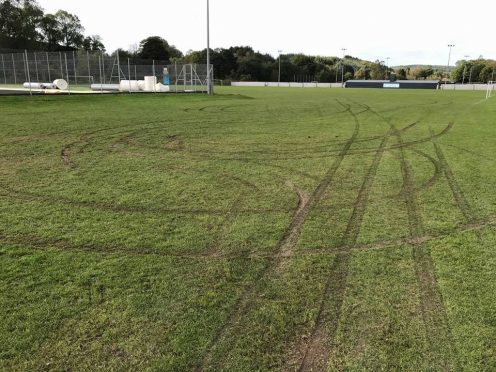 Pitches used by north-east sports teams have been badly damaged after vandals did circuits in an all-terrain vehicle.
The culprits struck at Turriff's Haughs on Thursday night, and was discovered when volunteers went down to carry out a pitch inspection yesterday.
Last night, a spokesman for the Haughs Redevelopment Partnership, said there was now nowhere locally for 11-a-side matches to be played.
The group is currently leading efforts transform the pitches – which are key to the towns sportsmen and women – into a focal point for the community.
He added: "With the recent bad weather, all football clubs in Turriff have been struggling for space.
"There's nowhere else for 11-a-side matches to be played, so that's what makes this act of vandalism even worse. They don't know what they do can affect people in the grand scale.
"A lot of training is done on these pitches, and if it had been wetter when this happened then it could have resulted in games having to be called off.
"The grass will grow, but it's unfortunate that this is where we are. It's not good to see, especially when people are finding it difficult to play.
"They need to respect the areas in the town that have been set aside for the community to use. They can do their driving in their own fields."
Turriff United's youth football side has also condemned the damage.
The damage to the Haughs is the latest blow to have been suffered by the town's sports clubs.
Flooding from earlier this year has resulted in synthetic pitches being taken out of commission and grass that could be used as makeshift football fields has been left unusable after a circus cut it up during a stay last year.