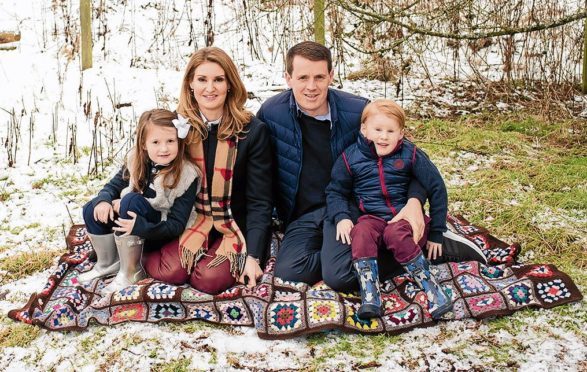 A north-east family have spoken of their shock after discovering their four-year-old son has an extremely rare degenerative disease.
Jacobi Whyte experienced problems with his movement and speech while he was attending nursery school in Inverallochy, near Fraserburgh.
Then, last September, doctors told his parents, Faye and Nathan, he had Duchenne Muscular Dystrophy: a genetic disorder which results in boys becoming wheelchair-bound between the age of eight and 12 and reduces their life expectancy.
It is such a rare condition there are no other cases of it in the region and Mrs Whyte admitted the news had come as a "devasating" blow to the couple, who also have a seven-year-old daughter, Georgiana.
She said: "It was very difficult to deal with when we were first told the news, because we had never even heard of DMD.
"Jacobi isn't even aware he is ill and, at the moment, he is taking steroids every day, so we are hoping they help to slow the progress of the disease.
"He turns five in May and will start school at the end of the summer, but we are not looking too far ahead.
"In the immediate aftermath of Jacobi's diagnosis, we felt lost, alone and without hope. But, as a family, we have now gained in strength and feel a strong need to be proactive.
"We want to make a difference to Jacobi's life and to all other little boys affected by DMD and for this reason we made the decision to start fundraising.
"Our mission is to raise money to fund research and clinical trials in order to find a cure for this cruel disease.
"Over the last few years, significant advances have been made and we along with other parents feel that there is hope on the horizon."
The family and their friends have organised a series of events to raise funds in the search for a cure.
Mr Whyte, 38, will be involved in a 26-hour golf challenge on June 21.
And his wife, 32, will take part in the Prime Four Beast Challenge on September 22.
She added: "Every day is challenging coming to terms with Jacobi's condition, but we are not prepared to sit around.
"We want to make a difference to Jacobi's life and to all other little boys who are affected by DMD.
"Our mission is to raise money for Duchenne UK and contribute towards the goal to End Duchenne In Ten [years]."
Hope springs from Georgiana's own health problems
Jacobi Whyte's big sister, Georgiana, has experienced health issues of her own.
At the age of four, she was taken to hospital with suspected meningitis and ended up in a high dependency unit, where she was diagnosed with Acute Disseminated Encephalomyelitis, which is inflammation of the brain, spine or optic nerves.
Her mother, Faye, said yesterday: "Georgiana recovered with the treatment of steroids, but it then returned a few months later and this time it was optic neuritis.
"After that stint in hospital, my mum and stepdad bought a dolphin from the ARCHIE Foundation called Hope, but we didn't tell anyone at the time who had bought it.
"It is outside our house and it is visited by many people.
"Georgiana, who is now seven, took a year and a half to get back to normal and had a relapse in August 2016, and she was treated with steroids again.
"She has had every test you can imagine, but Georgiana has amazed us all and she has grown into a happy little girl who loves life."