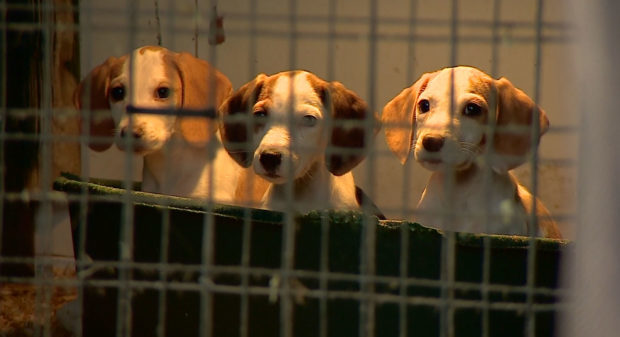 Two people linked to an alleged puppy farm have claimed they are being made to look "like gangsters" by an animal welfare charity.
About 90 dogs were taken from East Mains of Ardlogie farm, near Fyvie, following a Scottish SPCA raid last year – which was filmed by a television crew.
But now Frank James and Michelle Wood are battling to prevent the charity from rehoming the dogs.
At Banff Sheriff Court yesterday, the pair took the first step in defending their right to keep the dogs and puppies and claimed they should never have been taken away in the first place.
The court heard the dogs had previously belonged to Mr James's daughter, but were given to Ms Wood when her family started receiving online abuse, including death threats. They agreed that the sale of any puppies from the farm would be split 50-50.
A number of other animals were also taken away during the raid, which was attended by undercover charity and police officers, as well as a BBC crew. Mr James yesterday accused the animal charity of using the footage captured on the property as a way to "make them money" and dismissed proposed evidence from an animal expert.
He said: "Their vet (a witness) is actually a member of their staff. It doesn't seem fair to me. "We've been in business up here for 40 years. My father has the best name in business for not 'doing' anybody."
He also claimed the charity's subsequent appeal – for anyone who suspects they bought a dog from a puppy farm to come forward – has harmed his reputation. "They've put a thing on the TV and papers," he said. "It's making us look like gangsters."
Despite the animals living on the land, it has no licence to breed or operate as a pet shop. A breeding licence had been sought for the site in 2016, but the application was withdrawn at the 11th hour.
But Mr James told the court that regardless of that, the Scottish SPCA should not have taken the dogs away.
He said: "We've been told the Scottish SPCA is allowed to take the dogs if they are ill or underweight.
"There were no dogs ill or underweight.
"The only day they weren't cleaned was when they (the Scottish SPCA) landed." Yesterday, Sheriff Robert McDonald set a two-day hearing on the new case for July. "I don't think there are any technical arguments that would be a 'knockout blow' in terms of the law," he said.
Mr James and Ms Wood have until June 21 to submit a list of witnesses and any documents they wish to use during the hearing.
But the pair, who say they have exhausted their options in the north-east to find representation, have struggled to convince a lawyer to take on their case.
"As soon as they think it's a SSPCA thing they don't want to touch it," he said. "I can't get nothing unless we get a lawyer."
East Mains of Ardlogie itself was previously raided in 2013, when Scottish SPCA officers swooped as part of a wider operation to stop illegal breeding.
Mr James, his son Sean James and brother Edward James all admitted keeping 72 dogs in horrific conditions at Aberdeen Sheriff Court a year later.
All three men were forbidden from running a pet shop for a year, while the brothers were banned from keeping more than two dogs for three years.