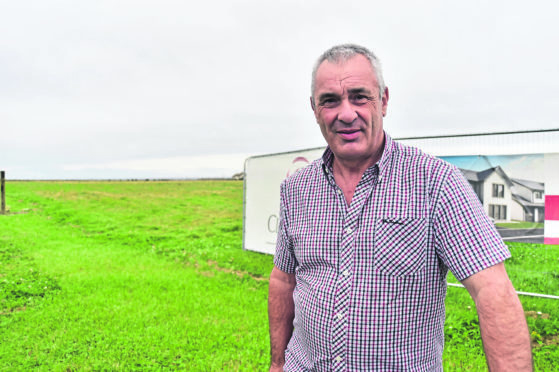 Councillors will be asked to approve the names of three streets which will form part of a new north-east housing development.
Proposed titles for the roads at Westhaven, Cairnbulg have come from the developer, Claymore Homes and the Invercairn Community Council.
The names put forward by Claymore Homes are Westhaven Road, Maggies Crescent and Westhaven Place.
The community council have opted for Mathieson Road, Centenary Crescent and Wastbye Way.
A report said councillors from the Fraserburgh and district ward have not intimated support for either of the suggestions.
Councillor Brian Topping will be one of those who will choose the street names.
He said a special gathering was held by locals to pick out their favourite monickers.
Mr Topping said there was one title he and his colleague councillor Charles Buchan did not like.
He said: "Invercairn Community Council held a special meeting to decide the names.
"When they came forward, we had a meeting with all four of the councillors and we all agreed with three names.
"Charles (Buchan) and I look at all the names, but we didn't like Centenary Crescent because it wouldn't really be apt in a few years' time."
The Westhaven development was approved last summer with Claymore Homes to develop land in the coastal community.
Some of the land at the site would be gifted to a local church, so they can expand their car park.
A design statement submitted with the original proposals said it was a "small and logical" extension to the fishing settlement.
It said: "The vision for this site and how it has developed is very much led by the landowner who wishes to see a development created with a sense of place with connections to the settlement of Cairnbulg and Inverallochy.
"There may well be a longer-term need for the community and the council to consider in which direction Cairnbulg will grow in the future.
"However, the small site at Westhaven would not prejudice this and it represents a far less obtrusive site than many around Cairnbulg could be considered to be.
"The demand for new housing in Cairnbulg is not being met and the site at Westhaven represents a small and logical expansion of the village."
The names for all three streets will be decided when the Banff and Buchan area committee meet today.