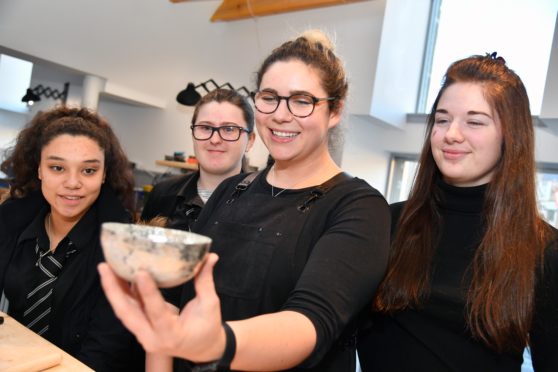 Banff Academy pupils are utilising new skills taught by a local silversmith to enhance their art portfolios as part of a Meet the Maker project.
In a first for Aberdeenshire, art students have been visiting the Smiddy Centre for Excellence for Silversmithing and Jewellery for lessons in the craft.
The initiative, a partnership between the school, Craft Scotland, Historic Environment Scotland and Aberdeenshire Council, involves students working alongside three crafts professionals over a six month period.
Silversmith tutor Megan Falconer has been working with the youngsters showing them the tricks of the trade over the last few weeks.
The groups initially spent time at Duff House exploring the historic building taking note of small designs and other details featured in the building.
They were then tasked with creating drawings of the designs, developing them into a concept which could be used to make a piece of jewellery.
Sixth-year pupil Alana Cameron said she enjoyed getting out of a classroom atmosphere and having the chance to be creative.
She said: "I love coming to the Smiddy. I started off creating a necklace but I've developed the design and now want to make it as a ring for my final project.
"The whole experience has been really interesting and I loved going around Duff House looking at the tiny patterns and symbols which we used as inspiration."
Fifth-year student Ayesha Argo is using the project to work towards her National 5 Art.
She said: "I started cutting out bits of copper and I was planning to make a candle holder so I've got a plan of what I want it to look like in the end.
"Going to Duff House I found my inspiration in the chandeliers and candelabras which is why I decided on a candle holder.
"It's totally different to what I would have produced in school and it's really broadened
The Meet the Maker initiative has been running every year in Stirling for the past four years.
It is the first time the project has been launched anywhere else in the country.
The Banff Academy students will also get sessions in willow sculpting with David Powell and interdisciplinary designing with Naomi McIntosh.
Silversmith and tutor Megan Falconer said: "It's going really well, the groups initially started off working with copper but now we're starting to use silver, the more precious metal.
"They've been taught a range of skills to create pieces of jewellery and other items such as bowls using their designs."
Products developed by the pupils will go on show at an exhibition at Duff House in March and then Stirling Castle later in the year.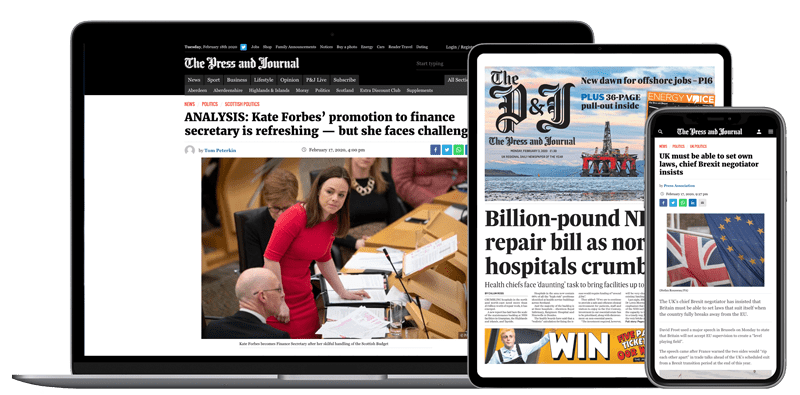 Help support quality local journalism … become a digital subscriber to The Press and Journal
For as little as £5.99 a month you can access all of our content, including Premium articles.
Subscribe