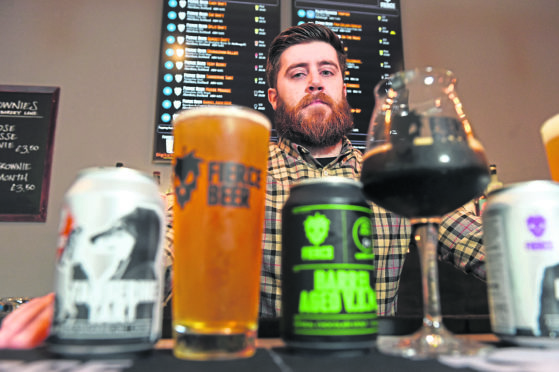 Scottish beer drinkers have been asked to raise a glass to their local breweries this Christmas as a new strategy is launched to grow the sector into a £30billion a year industry.
Scottish Food and Drink, the national agency for the industry, hopes its new campaign will make beer brewed in Scotland the "most desirable in the world".
Among the agency's plans for boosting the profile of Scottish beer is promoting brewing's profile as a more attractive career choice, and providing assistance to beer makers to help them sell their drink in new markets.
The recommendations are part of a plan drafted following the findings of a study by the Brewing Industry Leadership Group, commissioned by Scotland Food and Drink.
Hilary Jones, chairwoman of the group said: "The strategy brings a collaborative approach between over a dozen agencies to tackle several challenges, including infrastructure, tax, marketing, exporting and the availability of a skilled group of people who see brewing as a desirable career choice.
"We want to increase the perceived value of our beer by focusing on craftsmanship and quality.
"We also want to plug into the new food and drink tourism strategy and improve our brewing destination experiences, educating our visitors and sending an international message that we are a high-quality brewing nation."
With more than 130 operating breweries, the Scottish brewing business provides in excess of 8,000 jobs across the country.
Robert Lindsay, the owner of Laurencekirk-based brewery Six Degrees North, backed the proposals.
---
>> Keep up to date with the latest news with The P&J newsletter
---
He said: "Six Degrees North are proud to be at the forefront of Scottish brewing, continually developing employment opportunities whilst contributing to local communities across Scotland through our extended venues.
"Our export, retail and direct distribution are growing year on year, contributing to the wider success of Scottish brewing and Scotland's food and drinks industry throughout the UK and beyond."
James Withers, the chief executive of Scotland Food and Drink said: "This strategy is important because it is the first time that our fantastic brewing industry has united to deliver a growth for the future.
"Working with many partner agencies with a common purpose means that we have a strong chance of success and this, in turn, will feed into our ambition for the Scottish food and drink sector to be worth more than £30billion a year by the year 2030."
Another pint please
With the current number of breweries in Scotland exceeding 130, providing more than 8,000 jobs, the beer industry is growing at a sufficient pace to give Scotland's national drink a run for its money.
Back in 1840, more than 280 breweries were recorded north of the border, but over the following 150 years, breweries gradually fell out of fashion and the number dwindled to just 63 in 1920.
However, in the 1990s and 2000s, the industry enjoyed a resurgence, and now drinkers across the country are able to enjoy India pale ales (IPAs), bitters, stouts, barley wines, porters and more from breweries both big and small across Scotland.
There is no sign interest in beer is slowing down – at the end of 2015, the Campaign for Real Ale noted 93 breweries in Scotland, and at the end of 2016, there were 115.
Among the biggest companies in modern brewing are the Aberdeenshire-based Brewdog, which was established in 2007 and now employs more than 500 staff, with bars around the world and hundreds of staff employed across its three bars in Aberdeen, as well as its brewery in Ellon.
Elsewhere in Aberdeen, the recently-founded Fierce Beer is now selling its creative drinks, from Cranachan-flavoured pale ales to high alcohol volume imperial stouts, in hostelries around the country, including its own in the heart of the Granite City.
In the north-east, the Brew Toon microbrewery in Peterhead, recently received an award for third best lager in the country at the Scottish Beer Awards.
In Moray, the Speyside Brewery in Forres has teamed up with Glenfiddich for their experimental IPA whisky, which is being sold across the world.
And Windswept Brewery in Lossiemouth has also celebrated success with their recently opened tap room.
Other breweries of note who have ridden the modern beer wave in Scotland include the Isle of Skye Brewing Company, and Cromarty Brewing in the Black Isle.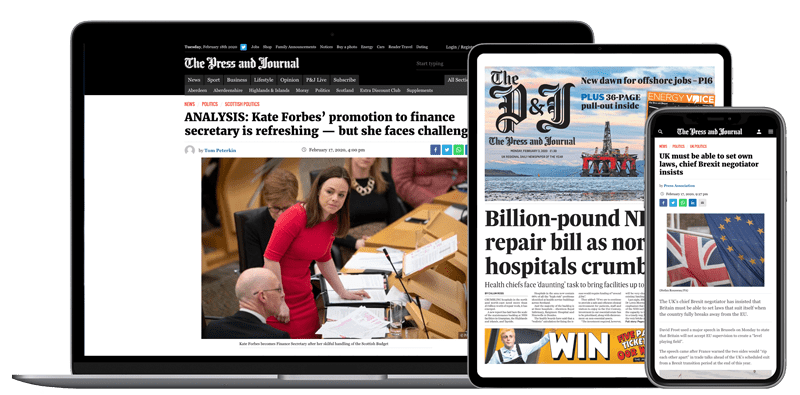 Help support quality local journalism … become a digital subscriber to The Press and Journal
For as little as £5.99 a month you can access all of our content, including Premium articles.
Subscribe