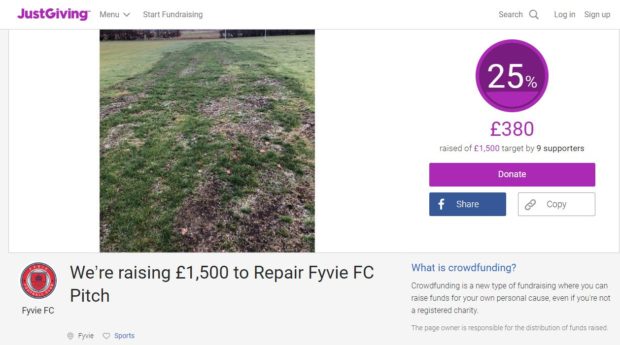 A north-east football club is fundraising to revamp the pitch it abandoned for over 15 years.
Following a long hiatus, Fyvie Football Club was reborn in March last year and members are now working towards joining a local league.
After securing funding and raising extra money, management and members 2018 renovating the changing rooms with a new roof, plumbing, electrics, paint, windows and doors installed.
But the pitch itself, following 15 years of nothing but an occasional mow, has fallen into a serious state of disrepair.
Some areas are rife with moss and patchy weeds, while other patches are barren, boasting nothing but rough dirt.
Fyvie FC players have been training throughout 2018 in the hope of becoming part of the north-east Welfare League.
A decision on whether that will be possible is likely to be made later this month.
Club chairman Connor Shepherd believes that turfing the pitch is vital if the team are to participate in the league.
He said: "It does get regularly cut by the council but the ground can't be played on and there's a big bit in the middle that is ruined as there was a barrier across it.
We are trying to raise money to fund the repair of our pitch at Fyvie FC to make it playable in time for our very first…

Posted by Fyvie FC on Monday, 7 January 2019
"There's weed patches throughout the pitch and the goal mouths are ripping up too.
"In the past, the ground was flattened and seed sown but it never took so it's just been left dry.
"We're hoping to join the north-east Welfare league and have 30 players ready but it starts in April so we need the pitch sorted for then.
---
>> Keep up to date with the latest news with The P&J newsletter
---
"It will need to be dug up and turfed as seed would take at least a year to cultivate."
So far the club has been competing in friendly matches while renovating their facilities.
Having everything else ready for the possible upcoming move into the league, fundraising ideas grew.
Mr Shepherd said: "While painting the changing rooms we were thinking about how we could sort out the pitch and that's when someone suggested a JustGiving page.
Fyvie FC in the early 80s.. Fantastic picture! Thanks to Robert Ironside for finding it. Cant wait for the new season to start to finally have a Fyvie team back playing league football again⚽️

Posted by Fyvie FC on Wednesday, 24 October 2018
"We put the target at £1,500 because we're going to raise most of the money ourselves through coffee mornings, quiz nights, events, player contributions and the sale of football cards.
"Really it was set up so that if it raises a couple of hundred of pounds then that's better than nothing."
He added: "Last March we started pulling the club back together and have taken part in seven or eight friendlies so far, as we started up too late to join a league.
"This will hopefully be our first real season and we've got home and away strips ready.
"We just need the pitch and then we'll really be set."