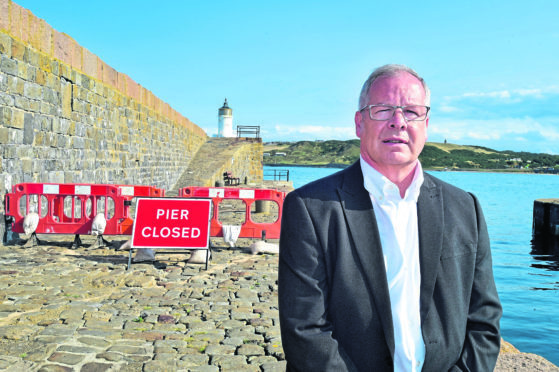 Specialist teams are being brought in to find a solution for two sagging piers at a historic north-east harbour following months of calls for action.
The North Pier at Banff Harbour was cordoned off last summer by the council after an inspection found it was in danger of collapse if there was a storm.
Contractors discovered that the levels of grout had reduced and that the large stone blocks built up into the quayside had potentially moved.
---
>> Keep up to date with the latest news with The P&J newsletter
---
Repairs were due to begin last August but work was suspended until specialist teams could properly assess the situation.
In 2017, temporary repairs had to be carried out after the railway jetty at Banff fell into the water and the south pier was also blocked off due to subsidence.
The harbour was built in 1775 and is mainly used by the owners of yachts and pleasure craft, but also local fishermen.
Bruce Gibson, who catches mackerel and lobster, previously branded the tiny port a "disaster" and Banff councillor John Cox said the piers looked "horrendous."
On Monday contractors will arrive at the 18th Century harbour to begin vital ground investigation work.
They will dig a series of holes in the north and south piers in the hope it can help them come up with a potential fix.  It is expected to take four weeks.
Phil Helmsley from New Deer keeps his yacht in one of the berths at Banff Harbour and has welcomed the move.
He described fixing the stonework at the tiny port as "essential."
Mr Helmsley said: "I'm very pleased to see that the council is taking it seriously and they are attending to the issue.
"There is a long way to go yet and this is just an initial investigation to find out what is needed.
"You can keep a boat there all year round and looking after the piers is essential.
"This investigation will show us how bad it is and as harbour users we are in contact with the council to keep us up to speed on what is happening."
Banff councillor John Cox hopes there will be no "obstacles" carrying out the structural assessment.
He said: "Securing the structure of the harbour is of paramount importance not only for harbour users, but the wider community who cherish Banff Harbour."
Last night, a council spokesman said the work would have no impact on harbour users and added that pier repairs will begin in the summer.
He said: "The ground investigation is a highly specialised undertaking and as such, Aberdeenshire Council does not have the necessary expertise or equipment to carry it out in-house.
"Therefore, an external contractor has been appointed. The cost is in the region of £100,000, in line with the budget allocated.
"The contractor is expected to complete the works on site within four weeks of starting, weather permitting, and a further four week window is then anticipated before the final results of the study are available."