'Astronomical' rates rise threatens north-east fish processing
Fish processing firms in the north-east risk losing their geographical advantage due to the "astronomical" business rates they are being charged.
A new report has warned the high levels of rates in Grampian could put local fish processing firms at risk.
Economic analysis of the impact of non-domestic rates (NDR) by industry body Seafish has found the amount payable has risen by 42.3% in Aberdeen City since the 2017 revaluation – compared to Hull and Grimsby, where there has been a drop of 8.8% and 7% respectively.
As a result,the body warns that companies in areas such as Humberside could "undercut" firms in the north-east.
Seafish pointed out that firms near Peterhead have nearly a day's advantage when it comes to processing freshly landed fish, where as those on Humberside have to allow for travel time.
But it warned that this competitive advantage could be offset given the lower property costs in places like Hull and Grimsby, and improved ability to move raw material in good condition.
According to the briefing paper, Business rates for fish processors in NE Scotland, there is a "a risk" processing firms could relocate to areas where labour is cheaper and property costs lower.
It added: "Longer term, firms in higher cost areas are more at risk of poor business performance and decisions to cease production in those higher cost areas, even if there is nowhere else the firm can practically relocate."
It warned some firms might have to "close altogether".
Last night, those working in the industry admitted the stark warnings were of no surprise and accused the Scottish Government of failing them.
Andrew Charles, who runs Aberdeen-based J Charles, has been calling for a reduction in rates for the last decade and fears a lack of action could lead to swathes of job losses in the city.
He believes the rates are worst for the city processors, and said: "You've got a serious problem in Aberdeen cimpared with Peterhead, Fraserburgh, Hull and Grimsby.
"The disparity is 53% higher business rates compared to Peterhead and Fraserburgh.
"We're not competitive as a business, and this business rates decision has got out of hand.
"In the long-term it is going to cost Aberdeen dearly. In my mind, the rates are wrong and it is going to cost Aberdeen jobs."
A summit between industry leaders, council bosses, the Scottish Government and Grampian Valuation Board lst year failed to find a solution on how to support processors facing soaring rates.
Trawlerman star and retired skipper Jimmy Buchan was at the summit in November and feels higher business rates mean north-east processors are unable to compete in an international sector.
Mr Buchan said: "We've been challenging the local authorities and the Scottish Government on this.
---
>> Keep up to date with the latest news with The P&J newsletter
---
"It appears they don't have the best interests of processors at heart.
"How on earth can businesses plan when they are getting hit with rates like this?
"It has been ongoing for a number of years and the sector is bitterly disappointed with this.
"We are trying to compete in a global industry and it is disappointing we have gotten to this stage."
North East MSP Conservative MSP Peter Chapman, said: "In Aberdeen City in particular, there has been an astronomical rise in business rates.
"The ability of companies in the north-east of England to undercut those in Aberdeen makes it almost impossible for local firms to compete.
"These firms should be investing in new infrastructure as we prepare to leave the EU. As it is, they are struggling just to stand still – they need Scottish Government support."
Aberdeen City Council co-leader Douglas Lumsden said: "I think the Scottish Government should be doing everything it can to help this industry in Aberdeen."
A Scottish Government spokesman insisted there had been productive meetings with the sector.
"We are committed to doing all we can to assist them, and will continue to work closely with the industry and with local authorities," he added.
"However, a key issue facing the sector at present is the threat Brexit poses to the supply of workers."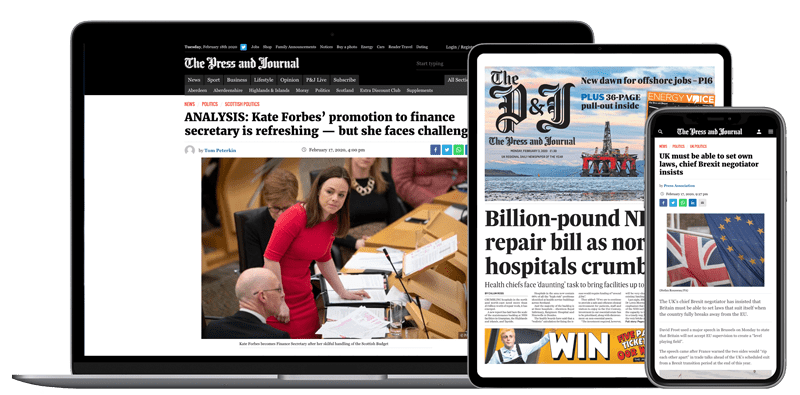 Help support quality local journalism … become a digital subscriber to The Press and Journal
For as little as £5.99 a month you can access all of our content, including Premium articles.
Subscribe