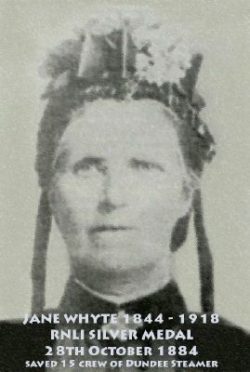 A bid has been launched to find the descendants of 15 sailors who lives were saved by a north-east heroine.
One of Jane Whyte's relatives is appealing for the families of those on board the Dundee steamer William Hope to come forward.
Mrs Whyte risked her own life to save the men after their boat suffered engine failure off  New Aberdour in October 1884.
As the vessel drifted towards jagged rocks, the 40-year-old mother-of-nine entered the stormy waters to catch a rope thrown by the desperate sailors.
Wrapping it around her waist, she then struggled back to shore, providing the lifeline for the men to make it to land.
Mrs Whyte was given the RNLI silver medal and £10 for her bravery and now her great-great grandson, Robbie Kelman, hopes he can track down people with links to the 15 crew who were saved that day.
He wants to add another chapter to the remarkable story of the woman who he calls the 'Grace Darling of the North' and whose heroism was celebrated last year at a poignant coastal ceremony.
Little has been known about the crew or their families, but Mr Kelman has the full list of names from the original Board of Trade crew list and has been working for some time, without much success,  to trace those with links to the sailors.
He said: "Brian Holmans, a former customs and excise man from Kent who was previously stationed in Peterhead, has already sent me a full list of names of the crew members' names of the last voyage of the William Hope.
"The names are written in handwriting on the original Board of Trade crew list.
"Hopefully this may lead us to someone's door."
Mr Kelman previously tried to use a newspaper clipping featuring a letter written by two of those on the ill-fated ship to help track down relatives.
Alexander Beaton and Donald Davidson wrote it the month after the incident to back-up Mrs Whyte's version of events.
An event to mark the centenary of Mrs Whyte's death and unveil new interpretation boards telling the story of the dramatic rescue took place at New Aberdour beach last August.
A new exhibition focusing on the north-east heroine is due to launch at the Museum of Scottish Lighthouses in Fraserburgh this summer.
Anyone with information is asked to contact Mr Kelman at robbiekelman2@gmail.com.