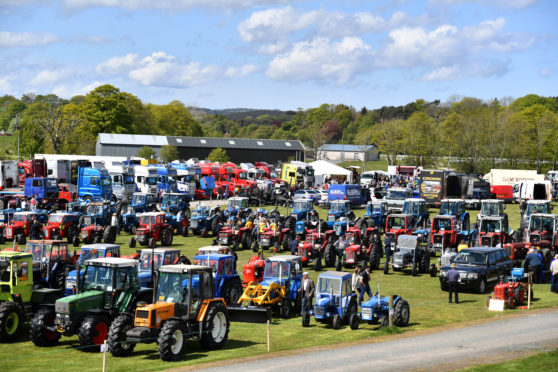 Record-breaking crowds, fuelled with a passion for classic and vintage vehicles, have turned out at a north-east car rally.
The third Turriff and District Vintage and Classic Club event attracted exhibitors and visitors alike from all across Aberdeenshire.
Held at the Haughs, the grounds were filled with people enjoying the fun fair and finding out more about the eclectic range of vehicles on display.
Owners proudly stood next to their collectors' pieces, enjoying the sunshine and the event returned yesterday with more than 500 cars, tractors, trucks and motorbikes, as well as a handful of surprise guests.
Secretary of the vintage and classic club event committee, Lesleyann Geddes,  said she was thrilled by how the festival keeps on growing.
She added: "We were really amazed when some extra vehicles turned up. A local guy who has an aeroplane with some of his friends flew over and landed not far from us to come and see what was going on.
"So, we've even had aeroplanes this year."
"It has been really busy with exhibitors and the public coming in – it's overwhelming.
"Our sponsor Crown Motors has made it possible and it's taken six months to arrange the massive event, but we have got a record crowd today.
"The number of exhibitors has doubled since our first year. We started the club with 130 members and were asked to arrange a get-together.
"It was meant to be 30 vehicles, but it went up to 300 and something so we just keep growing and growing.
"This is definitely an annual thing now and we're already planning next year's show."
There were more than 500 exhibitors and 60 trade stalls to entertain the crowds who can enter the rally for free.
From steam engines, to a 1964 Triumph Tiger Cub motorbike, to a 1917 Ford model T car, to a 1997 Scania truck, there was something for all kinds of enthusiasts as well as the fun fair and stalls for children.
Miss Geddes said: "This year, we had a Bygone Era tent with a lot of kitchen stuff like a butter churn, a milk caddy and a cheese press.
"The stalls are also a mix from Until Every Dog Has a Home with some of their dogs to a stall with tractor parts – we've also the donkeys that people love.
"The weather was also fantastic. Last year was a downpour, but this is much better."