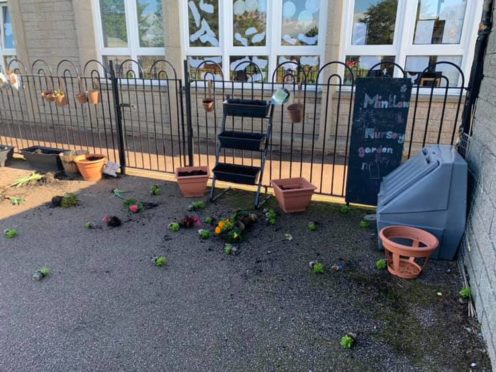 Officers are appealing for information after vandals ripped up the plants in a school garden.
The area, designed by the pupils and staff at Mintlaw Primary School, was ransacked over the weekend.
The plants in the gardens were ripped from their beds and kicked about.
A statement released on the school's Facebook page read: "Absolutely devastated to come into school to this morning to discover this.
"All the children and staff's hard work has been purposely destroyed."
Staff urged parents to come forward to help repair the damage, and within hours the gardens were being restored.
Head teacher Sarah Forrest said: "It was really sad to come into school and see such mindless damage done to all the hard work that our nursery children and staff have put into our garden, with all of the plants ripped out and thrown around.
"On the other hand the response from our school and local community has been heart-warmingly amazing and all of the damage has been undone by a group of parents and grandparents who have come in to school today to re-plant and patch up all the damage that was done.
"We are very grateful for the continued support of our local community."
Police are appealing for anyone with information to come forward, and said: "It is extremely disappointing that plants at the nursery area playground at Mintlaw Primary have been damaged.
"All of the plants have been torn out of the pots and kicked about the play area.
"Some of the plant pots need replacing and all the plants will need replaced which will be both costly and inconvenient."