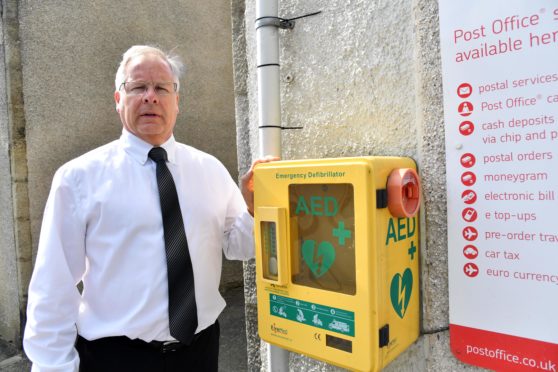 Vandals have targeted a defibrillator in a north-east village bought after two years of fundraising by local firefighters.
Officers are appealing for information after the life-saving device near Aberchirder Pharmacy on Main Street was targeted.
The glass casing was smashed, leaving the machine exposed to the rain – leaving it unusable.
It is thought the device was damaged between 8pm and 9pm on Saturday.
Although the defibrillator is located on the wall of the pharmacy, it is owned by Aberchirder's firefighters.
The crew held a series of events to raise cash for the device, and were helped by donations from village groups such as the knitting club to hit their target.
It was installed on the wall to the side of the pharmacy in May 2017.
Last night, local councillors hit out at the culprits who damaged the equipment.
John Cox said: "Quite simply it's mindless vandalism and is completely unforgivable.
"This is truly a sad reflection of the mentality of some people.
"How they can take any pleasure in vandalism is incomprehensible but this is the lowest of the low putting people's lives at risk."
Fellow councillor Glen Reynolds said the vandalism was a "disgrace" and that the perpetrators "need to be punished".
He said: "This is very sad as it occurred following a great community spirited event in the Foggie truck fair earlier on Saturday which was a great success and brings together the very best of Aberchirder.
"I hope the perpetrators are identified and fully realise the reckless nature of damaging what can be a life saving device installed thanks to local firefighters."
Both urged people to contact police if they have information.
PC Lauren Chapman said: "If the defibrillator unit had been required to help someone and give life-saving assistance it would have been unusable.
"This makes such an act all the more reckless and unacceptable to the whole community."
Anyone with information should call 101 or Crimestoppers on 0800 555111.