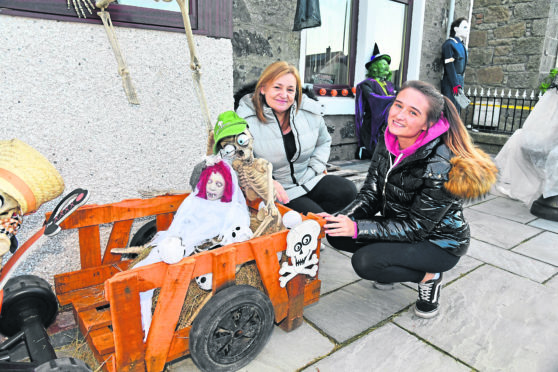 A north-east woman has vowed never to decorate her garden for charity again after Halloween decorations were repeatedly stolen.
Angela Keay turned her home on Mid Street in Fraserburgh into a house of horrors, with dummies made up to look like famously frightening Hollywood villains.
The display began as a joke, but Mrs Keay started collecting money for Westfield School after it proved surprisingly popular.
But she has been left "disappointed" after masks used to transform mannequins into Pennywise, the creepy clown from It, and Michael Myers, from 1978 slasher film Halloween, were taken.
And Mrs Keay has now scrapped her plans for another fundraiser at Christmas – as she fears it would be similarly targeted.
She said the trouble began on Sunday, and she believes local teenagers are to blame.
The masks were eventually returned – but it was only a matter of days before more decorations were stolen.
Mrs Keaye said: "The first people who stole the Pennywise mask had the audacity to enter my back garden.
"That's what's annoyed me the most, that they've came into my private property.
"To be stolen from was enough, but it's happened twice and I just can't believe it. It's soul-destroying."
On the second occasion, the Pennwise and Micheal Myers masks were taken again – as well as the mannequin heads.
Arms were also taken from the dummies, despite them being glued on to prevent them from being removed.
The mannequin heads were found strewn on the street and the masks were later thrown back over the fence.
A spooky butler statue and a mannequin arm are still to be returned.
Mrs Keay said: "I feel really upset for the children who were looking forward to getting their photos taken."
Mr and Mrs Keay originally had a jar for donations for passers-by to give what they could but they have now moved it inside in case it is taken.
She added: "We are still collecting money for the school but we've moved the jar inside so this doesn't get stolen too.
"We probably haven't raised an awful lot for the school because of this. Anyone that would like to make donation just needs to chap the door and ask."
"We were planning to decorate the garden with Christmas trees and characters from Frozen in December, but after all this trouble it doesn't seem worth it."