VIDEO: Bid for Banff2Banff partnership sent to Canadian town
Community leaders in Banff are waiting in anticipation now their bid to partner with their Canadian counterpart has been submitted.
The partnership proposal includes a special video, produced by Malcolm Slater, which showcases the town and Banffshire's myriad assets.
At a meeting last week, more than 100 local residents watched an exclusive preview of the video and listened to the proposal.
Spotty Bag Shop owner Des Cheyne initially came up with the idea and believes it can be a big success.
He said: "This partnership is achievable, but only if we all get involved – I'm a great believer in the saying 'the only time you find success before work is in the dictionary'.
"If this is accepted by Banff, Alberta, then we can go on to bigger and better things, using our chance to show the world all we have to offer."
Banff Academy singers, fiddlers and highland dancers performed and the Banff Preservation and Heritage Society spoke about the link between the towns.
Events in 1892 tied the two communities after Harry Sandison, a resident of Winnipeg, suggested to a senior member of the Canadian Pacific Railway that the name of his Scottish hometown would be the perfect name for the area of Canada.
George Stephens, railway president, was also from Banff and agreed.
Since then, the connection has existed, but now it is hoped that a partnership could benefit both sides commercially, socially, culturally and educationally.
Andrew Simpson, Lieutenant of Banffshire, said: "This could be a partnership, allowing both to grow and a bond to flourish.
"To stand out and hopefully get the partnerhip we've submitted a video bid that's a bit different."
Already, primary fours from Banff School have been writing letters to the children of Banff Elementary in Canada.
Head teacher Laura Mackay brought two pupils to talk at the meeting who explained that they had found similarities and differences with their pen pals.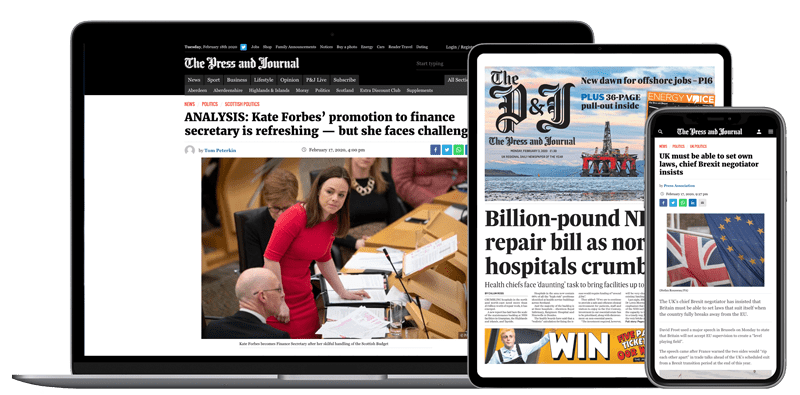 Help support quality local journalism … become a digital subscriber to The Press and Journal
For as little as £5.99 a month you can access all of our content, including Premium articles.
Subscribe