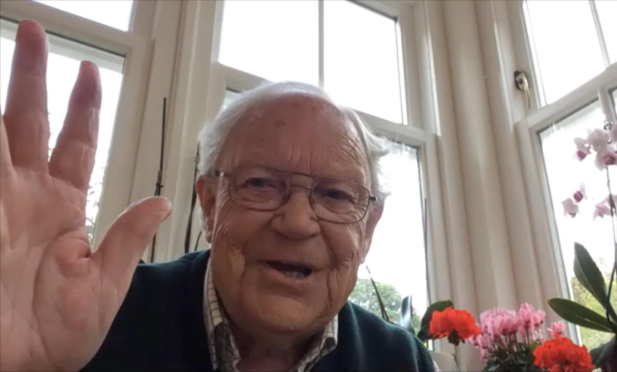 Beechgrove will say goodbye to viewers for another season this evening with the help of a very special north-east guest.
All six of the BBC gardening show's presenters – Carole Baxter, George Anderson, Chris Beardshaw, Brian Cunningham, Kirsty Anderson and Sophie McKilligan – gathered virtually to say their farewell.
During the call, however, they were all surprised to have it gate-crashed by former presenter Jim McColl, who joined the chat from his home in Aberdeenshire.
He told the presenters on the video call: "You are all looking very well and you seem to be behaving yourselves when I've been watching you on the old TV."
Mr McColl, who is also a Press and Journal columnist, added: "In the present circumstances, gardening has just come to the fore.
"So many people have realised there is so much more to it. And they are the happier for it. It is absolutely fantastic."
Series producer Gwyneth Hardy, of production company Tern TV in Aberdeen, said: "We had so many people asking after Jim, especially this year given the terrible circumstances with the Corona virus.
"We were delighted that he wanted to make this guest appearance for our 2020 farewell show and we were able to keep it as a surprise for the presenters."
Mr McColl retired in 2019 after almost 40 years at the helm of the Scottish gardening show. When the call was recorded, he had just celebrated his 85th birthday.
The end of season episode  – with its 'surprise caller' – will go out tonight on the BBC Scotland channel at 7.30pm and will also be shown on BBC Two on Sunday at 9.30am.
Presenter George Anderson said the team are already looking forward to next year's series, coming back in the spring.
He hopes the current situation with Covid-19 will have improved by then and there will be more scope to visit viewers' gardens.
Mr Anderson adds at the end of the programme: "Stay safe, look after yourselves and make sure you can come back and watch Beechgrove next year."