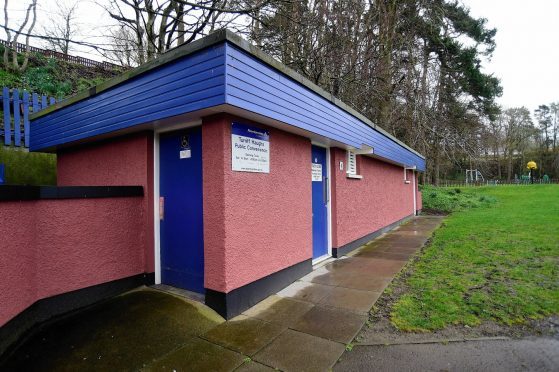 Aberdeenshire Council has been forced to back down on plans to close a north-east toilet – at least for the summer.
The local authority announced earlier this month that it would be closing a toilet block in Turriff because of its lack of use.
The decision would have meant that the town would be left with only one public facility ahead of the summer.
But after concern from local community groups and parents, the authority has announced that The Haughs will be returned to use before the end of the week.
Its return, however, is only temporary.
Last night, local councillor Sandy Duncan said that the impact the closure would have on the town was not fully discussed with ward members.
"The decision to close the toilets and for the council to no longer run the facility still stands, but in light of the community interest the council will not now apply the decision until the end of this season," he added.
"That allows good time for more discussion at a local level to determine if there is a community based way forward that could emerge. That would be a common sense approach in these exceptional circumstances and is again consistent with the original decision which was to also encourage local communities to manage facilities.
"Arrangements are being made for the toilets to open, once they have been cleaned, with immediate effect and I expect that to be by the end of this week."
A local petition had been started to keep the toilets open.
More than 300 people signed it online, calling on council officers to reconsider the closure.
In her call to action, petition organiser Karen Macdonald said: "They have closed the public toilets down the den in Turriff which can only be a bad thing.
"If you take kids to the park, kids are always asking for the toilet. Especially those who are toilet training. They think the toilets don't get used? Well it's up to us to prove to them otherwise."