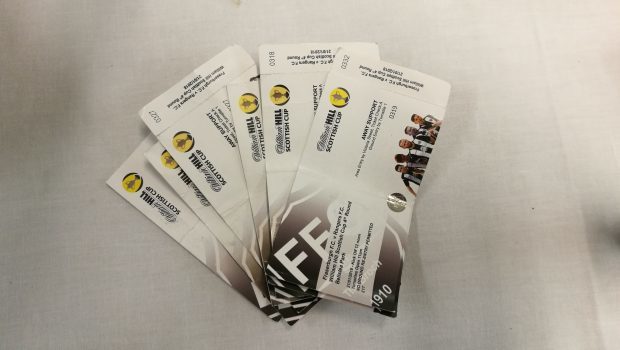 A football fan has warned that violence could have "kicked off" after ticket holders were turned away during the Scottish Cup tie match in Fraserburgh.
About 150 Rangers fans were turned away from Fraserburgh's Bellslea Park on Wednesday night despite claiming to have genuine tickets.
The club announced before kick-off that it could not let any more waiting supporters in because the grounds had reached full capacity.
It revealed that there appeared to have been supporters using fake tickets to get into the game.
Now members of Rangers supporters clubs have said the situation could have turned "ugly".
Billy Stephen, the secretary of Peterhead True Blues, yesterday said some of his members were refused entry to the tie.
He said: "There were three members of my club who had genuine tickets and couldn't get in.
"I don't know exactly how many people were involved all together, but it could have been ugly.
"There was definitely the potential for violence and it could've turned nasty."
Mr Stephen, however, distanced blame from the Highland League club.
"You can't really blame a small club like Fraserburgh," he added.
"They haven't got the money and capabilities to scan tickets like a modern day turnstile."
Pal Stuart Robertson, also from Peterhead, was left with no option but to watch the action at a local pub and said fans left outside had become frustrated by the situation.
"It was on the verge of kicking off with lots of folk pushing," he said.
"We were right at the front and we were getting squashed."
No-one at Fraserburgh Football Club was available to comment on the fake ticket scandal yesterday.
A statement on the club's Facebook page said: "The club will hold an investigation and further details will be advised."
Police revealed two arrests were made before the cup match.
A police spokeswoman said: "Two men aged 18 and 26 from the Glasgow area were charged in relation to an alleged breach of the peace before the game and will be reported to the procurator fiscal."
The Scottish Football Association has said it will review official reports of the match before investigating claims concerning counterfeit tickets.
A spokesman said: "We will review the match delegate report from the Scottish Cup tie at Fraserburgh before deciding whether any action is required."
Last night police said they will be working alongside Fraserburgh Football Club as part of the inquiry into the alleged fraud.
A spokeswoman said: "Officers will work with the club and enquiries will be carried out."
Rangers called it a "serious matter".
A club spokesman said: "Rangers have been contacted by a number of supporters regarding them being refused entry to last night's match at Fraserburgh.
"Rangers are extremely disappointed and have sympathy with those supporters who, after having made the long journey to Fraserburgh, found they were denied entry with genuine tickets.
"An allegation that counterfeit tickets were in circulation is a serious matter and Rangers will comment further after a full debrief is held with Police Scotland and Fraserburgh Football Club."