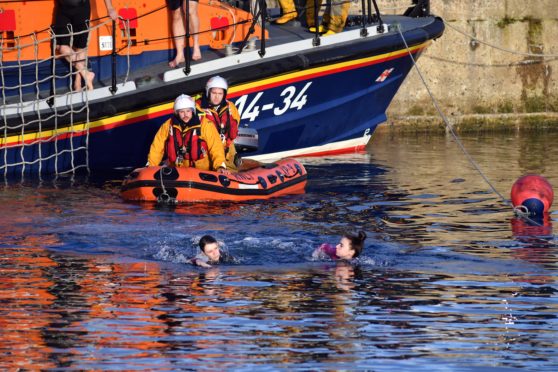 Swimmers donned their trunks, suits and reindeer antlers and plunged into Fraserburgh Harbour yesterday to help raise money for the local RNLI crew.
The water temperature, at just over six degrees, proved to be a shock to the system – though a welcome one – when the 28 swimmers jumped from the lifeboat.
---
>> Keep up to date with the latest news with The P&J newsletter
---
Every participant crossed the 52-metre distance from the boat to the other side while more than 300 spectators offered lusty support.
Taking to the water for the first time was the coxswain Vic Sutherland's second daughter Ailsa.
The 12-year-old said: "It was fine to start with, because all you think about is getting to the other side, but then at three quarters of the way, you get really numb and tired and struggle, but you are still determined to keep going.
"I'm definitely doing it again next year."
Her sister Eilidh took to the water with their cousin Jordan, who travelled from France to take part.
Eilidh, 14, said: "I've done it three times and this one wasn't as cold as last year.
"Just before I went in, a seal appeared – in the middle of the swim, I looked over and it was right there, so I got a bit of a shock.
"The swim itself was fine. I'm really proud of everyone for doing it."
Also taking part for the third time was Jordan Wiseman.
The 20-year-old said: "This year, I decided to do it just in shorts which was bad.
"I'm a surfer and normally do it in a wetsuit.
"The first second was definitely the hardest bit and the wet suit makes all the difference."
Funds raised at the 11th annual Boxing Day swim, which has become a firm favourite on local calendars, will be put towards gear for new recruits in the Fraserburgh team.
Mr Sutherland said afterwards he was delighted by the turn-out and praised the efforts made by all the swimmers.
He also joked about the conditions for the event, describing the north east water as "almost tropical".