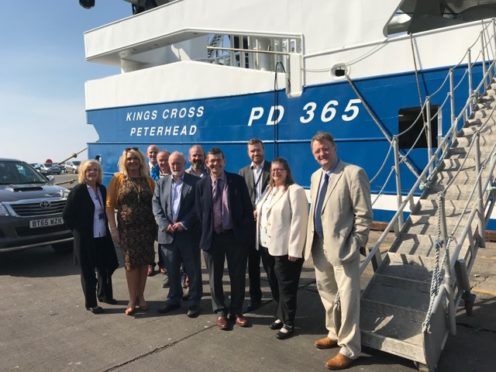 The council is working alongside an as yet unidentified but apparently "well resourced" fisheries firm to take forward proposals for a seafood centre of excellence in Fraserburgh.
It is hoped the £2 million project will eventually support the establishment of 30 new businesses and hundreds of training roles.
The venture is being taken forward by Aberdeenshire Council, Seafood Scotland, the Scottish Seafood Association (SSA) and Opportunity North East.
Proposals were first drawn up after the loss of hundreds of jobs when the Young's Seafood factory in the town closed in 2015.
Former Young's managing director Michael Sim joined the scheme last year and has been giving technical advice and support to all of the organisations.
Yesterday, members of Aberdeenshire Council's cross party fisheries working group were given an update on the proposals.
Derek McDonald, the council's industry support executive for the rural and marine sectors, told councillors "good headway" was being made.
He said: "We are talking to a fisheries organisation which has similar plans to develop an asset for its sector.
"There would be an enormous amount of benefit in working together to develop a shared facility with them.  We have met with this organisation and it is encouraging.
"There is a lot of money still to be raised, but this fisheries organisation is very well resourced and it would be theirs to run, to own and to govern.
Before yesterday's meeting, the fisheries working group were given a tour of the Kings Cross pelagic boat in Peterhead Harbour.
Chairman, councillor Iain Sutherland, said being on board the ship had offered the members a "fresh insight into modern fishing".