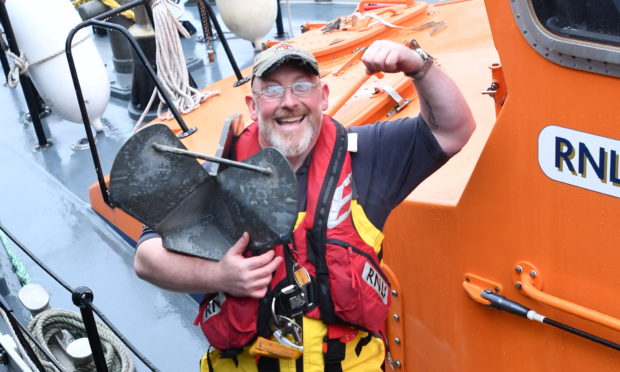 As a north-east coxswain, Vic Sutherland is used to shouldering the responsibility of managing a volunteer crew during high-stakes rescues.
Now, however, he is looking to take on an entirely different burden as he embarks upon a weightlifting challenge to raise funds for the RNLI.
Mr Sutherland plans to lift the combined weight of the five types of active lifeboats used by the life-saving charity – a total of 135 tonnes.
A little over a decade ago, weightlifting was something of a passion for the hardy Brocher but after injuring his shoulder on a call-out thought that would be the end.
But last year, when he started hitting the gym in a bid to shed a few pounds, he began to enjoy lifting weights once more, building up the sizes and improving his strength.
With encouragement from the three guys he works out with, Mr Sutherland decided to set himself a goal and raise a bit of cash at the same time by undertaking a sponsored boat lift.
He said: "The whole idea came about as a way to keep myself motivated at the gym and initially I was going to lift the weight of our boat – the Trent class Willie and May Gall.
"But it's only 28 tonnes and each workout clocks up a total of about 10 tonnes.
"I train three times a week at the Broch Iron Gym so that wouldn't be a great challenge."
Supported by his strongmen training friends, David Gray, Keith Walker and Willie Wright, he will instead lift the weight of all classes of active lifeboats – the 42 tonne Severn, 32 tonne Tamar, 28 tonne Trent, 18 tonne Shannon and 15 tonne Mersey.
To achieve the goal, Mr Sutherland plans to lift, push, press and pull the total weight to bring in donations for the Fraserburgh RNLI Station.
He added: "At the age of 48, I didn't expect to be attempting something like this at all, but I'm on track.
"I'm hoping to raise £1,350 – a tenner for each tonne – towards new personal protection equipment for our crew members."
Mr Sutherland aims to finish the challenge with something of a celebration at the station, lifting items there to "clock-up the final few tonnes and kilos".
"Hopefully if we can find things at the station that total the last few tonnes, we can have something of a celebration there and I can lift some of our stuff to clock up the final kilos.
Anyone wishing to support Mr Sutherland's challenge can make a Paypal donations to vicsuds24@btinternet.com.