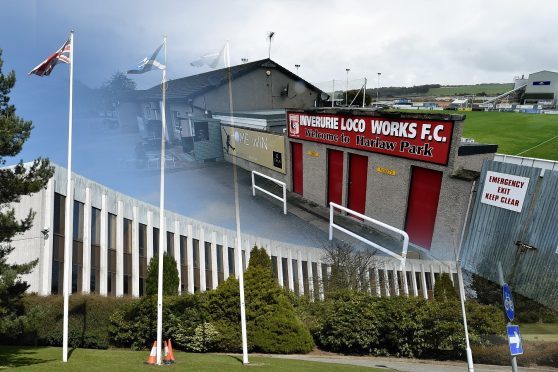 Opposition councillors have demanded assurances that major capital projects – such as the new Peterhead Academy – will not be jeopardised by plans to build a new headquarters.
The Press and Journal revealed yesterday that Aberdeenshire Council is in talks to buy Inverurie Loco Works FC's grounds at Harlaw Park for its new base.
As part of the deal, the football club would move to a new multimillion-pound sports complex elsewhere in Inverurie.
But questions have now been raised over how the cash-strapped authority would pay for the new headquarters.
Currently, Aberdeenshire Council's base is at Woodhill House in Aberdeen – making it the only local authority in Scotland to be based outwith its own boundary. When the SNP-led administration came to power last year, they identified relocating as a top priority and insist it will be more cost-effective.
However, there is no funding earmarked in the council's current capital plan and the expected £16million the sale of the existing Woodhill House site would generate could not cover a replacement.
Last night Jim Gifford, leader of opposition group the Aberdeenshire Alliance, questioned how the move would be paid for – and if it would put other planned projects, which have also been identified as a priority, at risk.
Proposals for a Peterhead Academy Community Campus, with possible primary and sports facilities, are already being discussed by council officers, and sites have been identified in the town.
The project – which could cost in excess of £40million – was listed as the education department's number one priority in the 2016-19 service plan in May.
The SNP-led Partnership administration has also repeatedly spoken of their commitment to the scheme.
Other key budget commitments include the work to build a new secondary school in Inverurie, and replace the fire-ravaged Kinellar Primary School
Mr Gifford warned that the Partnership could not keep promising resources that are not available, and said: "How are they going to pay for it? And the new Peterhead Academy that is also being promised?
"I can't, in the current circumstances, see any councillors putting existing projects on hold in order to build a new HQ while we have a perfectly good building operating just fine at the moment."
Deputy opposition leader Karen Clark said: "We know the SNP are desperate to locate a new HQ in Inverurie to right some spurious historic grievance, but we need to judge whether this is a good use of taxpayers money and whether it would compete with other important priorities including building new schools and care homes."
Mr Gifford said he also needed to "address" claims made by SNP politicians that his group are opposed to a new headquarters in Inverurie.
"Nothing could be further from the truth – we are neither supportive or not," he said. "So far we have not seen any details of what is proposed or seen the business case to support such a move.
"Once we have seen these, and many other details like how the SNP plan to pay for a new HQ, we will make a decision – so far we haven't had a chance to do that."
Last night council leader Richard Thomson guaranteed the new Peterhead Academy would not be sacrificed to fund the Inverurie relocation. The school, he said, could be part funded by the Scottish Futures Trust which contributed to similar schemes in Alford and Ellon.
"It's clear that any plans the Alliance might have had to move from Woodhill House in the past went absolutely nowhere," the SNP leader said. "To now announce that are neither 'supportive or not' of a move is a complete cop-out.
"The Tory and Lib Dem opposition to this plan has been obvious since it was first announced. It's clear that today's Alliance statement has been prompted by details emerging of how crucial the HQ move is to the successful delivery of other projects within Inverurie.
"The administration will be presenting a strong business later this year which sets out how a move will be funded, at the same time as contributing to a significant annual budget savings."