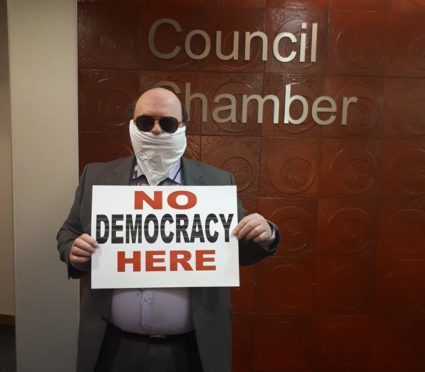 A north-east councillor is calling on the Provost of Aberdeenshire Council to "put up or resign", claiming he was illegally ejected from the last full council meeting.
Councillor Alan Buchan accused Aberdeenshire Council of being "anti-Peterhead" in the June meeting and staged a masked protest.
The Peterhead North and Rattray councillor was subsequently told to leave the chamber by Provost Bill Howatson.
Aberdeenshire Council accused of being 'anti-Peterhead' by one of its own members
The council has said it was the role of the Provost to uphold the standards expected of councillors.
Mr Buchan, however, continues to claim he has been wronged, describing the action taken as an illegal ejection.
He now wants the Provost to either report him or resign from his post.
The councillor said: "When I made the protest the Provost told the legal officer to tell me basically to shut up or I would be reported to the Standards Commission.
"I said right away they can report me.
"I gave it a few weeks to see if they would but I would be very surprised if they did as I didn't break any rules.
"I didn't disrupt anything or jump up and down but I got thrown out.
"I'm still waiting for them to do something but if they don't have the grounds to report me then they didn't have the grounds to throw me out so obviously it was done illegally.
"My view is that you can't throw someone out because you don't like them – you especially have to have grounds to throw someone out if they have democratically been elected to be there."
The front page of Mr Buchan's weekly magazine, the "North East Weekly", is emblazoned with the headline "report me or resign".
Peterhead politician is thrown out of council chambers after staging a protest against 'dictator' Provost
Mr Buchan said: "There's so much misinformation going on – particularly around the financing of the new Peterhead school.
"The council don't have the money for it and there will be no money left after they're done with Inverurie.
"I was threatened with being reported eight years ago and it ended up helping the school results I was campaigning for.
"I am facing down these threats by saying the Provost should either resign or report me.
"I'm here to represent the people who elected me and I can't do that if I'm thrown out against the rules."
A council spokeswoman said: "Councillor Buchan, along with all other councillors, is required to behave in accordance with the Standing Orders of the council.
"It is the role of the Provost, with support from council officers, to ensure that these standards are upheld."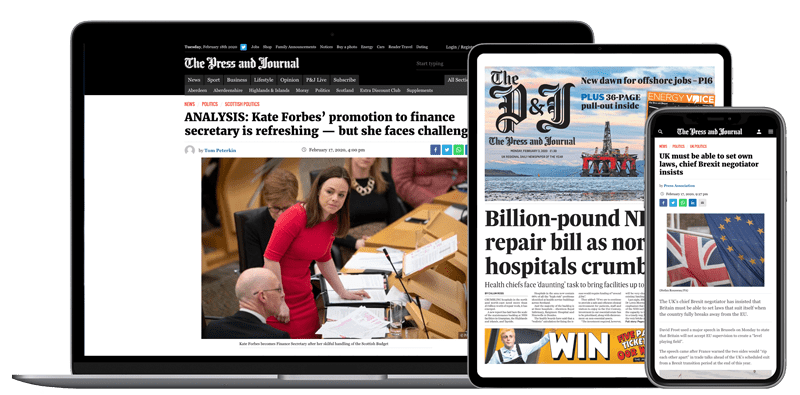 Help support quality local journalism … become a digital subscriber to The Press and Journal
For as little as £5.99 a month you can access all of our content, including Premium articles.
Subscribe