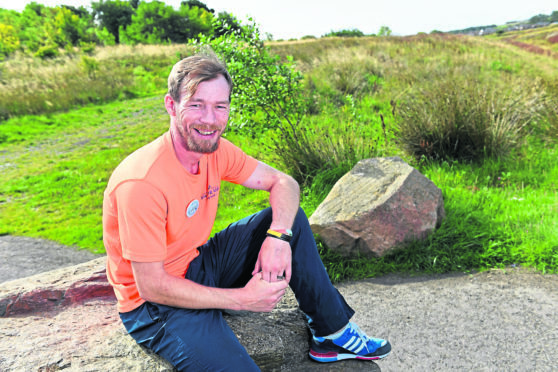 A north-east fitness fanatic is championing plans to create a community allotment in the heart of Peterhead.
Peter-john Coutts hopes to transform a 170-metre-long area of unused ground opposite Maggie Black's Trail.
In time, he hopes that in addition to the growing area it will become home to a community cabin, playpark and cycling club.
Key to attracting locals to the allotment, he hopes, will be creating facilities that can be shared and enjoyed by families and people of all ages.
The ambitious proposals will be discussed at a meeting in the town's Buchan House on September 18 at 7pm, to which all interested parties are invited.
Mr Coutts, who founded family fitness group Shape Up Peterhead, hopes his vision will find favour with the people of Peterhead.
He said: "I came up with the idea almost two years ago when I had a crazy idea and posted it straight onto Facebook.
"I want to create community allotments and a new play park so that families who take a plot have somewhere to keep kids entertained.
"I have five kids and whenever we go to my wife's allotment it's hard to keep them entertained.
"Often I have to choose between helping with the plot or playing with the kids and leaving my wife to do everything." Mr Coutts said Maggie Black's Plots would offer equipment so that plot owners don't have that added expense and that he also hopes to see local schools become involved.
"Hopefully the schools can get involved since Shape Up can maintain the plots and then they can use the space to teach children about where food comes from and how to grow it.
"From there we can build a community cabin to use as a cafe and so people can use their fresh produce and give it to those in need, since foodbanks can't take in fresh produce.
"The location is also perfect for a bike club to come and go from, so hopefully we get that too.
"It's all about bringing back that time when everyone knew each other, as well as about fitness and food.
"If we bring kids up around growing produce they will find it normal to grow and eat their own too."
Mr Coutts hopes the model could in the future be rolled-out to other communities across the region.
Local councillor Dianne Beagrie believes the project is a "good idea".
She said: "I've been quite involved with this and I believe it will be a great community project.
"I look forward to seeing how it develops."
Buchan area manager Chris White added: "It's good to hear of the level of positive interest in new allotments in Peterhead.
"Based on the success of the project at Aden Country Park we will be pleased to look at ways of working in partnership to help this new project along."