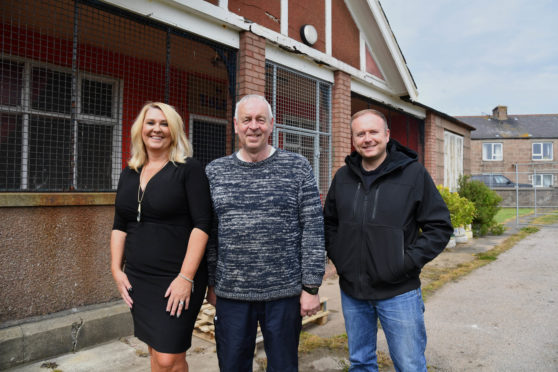 Work has started to refurbish a run-down Blue Toon park and make it fully accessible.
Peterhead Area Community Trust (PACT) was set up last year with the aim of providing and improving facilities used for exercise and leisure.
Barclay Park Pavilion is their first project.
It is hoped the site will be ready for public use by October with a new community space, a small kitchen and upgraded changing rooms for sports teams interested in using the grounds.
But the biggest change will be making the pavilion accessible for wheelchair users.
Ken Barbour Builders has been appointed as the refurbishment contractor by PACT, and will be completing the works over the next three months.
Chairwoman Dianne Beagrie said: "Just over 12 months on from forming PACT, we are delighted to be starting the refurbishment work on phase one at Barclay Park Pavilion.
"This is truly remarkable and the speed of progress has been a whirlwind.
"It's a privilege to be at this stage so soon.
"For the whole community to have an abandoned and run down facility brought back to life and revitalised is such a positivity for the community.
"To be able to see user groups back using the pavilion will be a very poignant day and we look forward to re-opening in October."
Funding for the project came from the Peterhead Vision and Action Plan and Regeneration Aberdeenshire Council.
The organisation is also hosting a sporting gala on July 28 at Barclay Park where plans for the park will be discussed and the public can put ideas forward for how the space can be used.
PACT currently lease Barclay Park Pavilion from the Community of Feuars of the town of Peterhead and hope to take on the sporting area in the near future.
Vice-chairman Graeme Mackie said: "The work of the trustees of PACT, who have gave up countless hours voluntarily to drive this project, is somewhat extraordinary.
"We have such a dedicated and committed group who want to make a difference for the community and that's what makes PACT unique.
"We wouldn't be here at this point without each and every member."