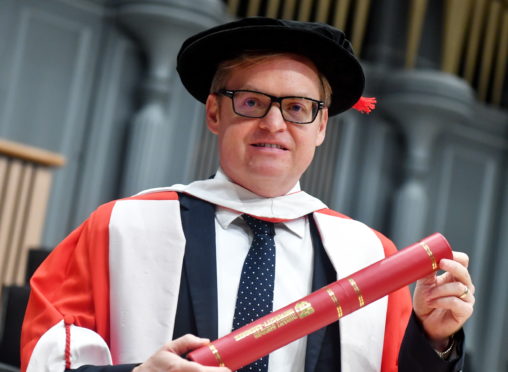 Renowned Peterhead film director Jon S Baird was recognised with an honorary degree and named Doctor of Letters at the ceremony.
The award recognises both Mr Baird's art and achievements and his support for others, particularly young people.
The Aberdeenshire man started off as a runner for the BBC after finishing university -before working his way to the upper echelons of the movie industry.
The 47-year-old reflected on his career after collecting the accolade yesterday.
He said: "Growing up in a fishing village like Peterhead I almost didn't want to tell people about my ambitions to become a film maker, I found my love of performance whilst watching shows on the West End.
"But as I grew up I did whatever possible to achieve my dreams, and I have been incredibly lucky to have worked with the likes of Martin Scorsese, Danny Boyle, Mick Jagger and Terence Winter.
"It has been a great honour and a privilege to receive this award."
Mr Baird is committed to giving back to the community through encouraging young people into the creative industries, and still travels back to Peterhead Academy to provide support and advice to students.
He is also a keen supporter of the Doric language and this year he backed the establishment of the Doric Film Competition, an initiative to encourage film makers to submit work in Doric.
Professor John Harper, Principal of RGU, said: "Jon S Baird is a hugely talented director who has not only made some significant achievements throughout his successful career, but is also committed to supporting the young students of today.
"I am delighted RGU is honouring Jon for his contribution to the creative industries which I'm sure will inspire our graduates as they celebrate their success and embark on their future careers."