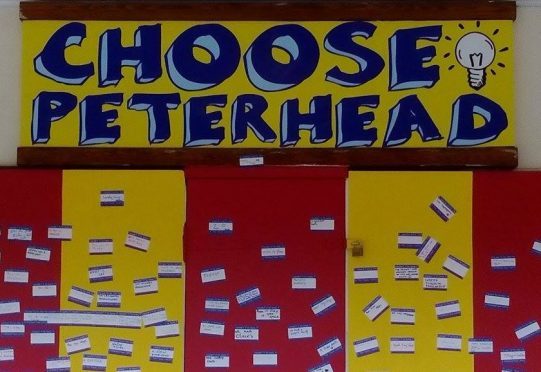 More than 700 Blue Tooners have made their voices heard on the future of Peterhead, with residents calling for art installations, green spaces and café culture to combat "big gangs".
The shopping precinct in the north-east's biggest community has been the scene of vandalism and threatening behaviour as tensions have risen between local residents and youths during the past year.
But now, the Choose Peterhead initiative – spearheaded by a local performing arts group – has rallied hundreds of local people to offer ideas on how best to improve the ailing amenities.
Residents, school children, town councillors and business owners visited a pop-up workshop in Drummers Corner to submit their proposals.
During the 18 sessions, which ran from Thursday morning until Sunday evening, visitors were helped by an expert team of designers, architects, urban planners and artists to create an action plan.
One of the biggest priorities for many participants was a crackdown on the number of "drunk people" and "big gangs" who use Drummers corner both during the day and during the night.
And the most popular option was to transform the site – at the point where Erroll Street, Marischal Street and Prince Street converge – into a new cultural heart for the town.
Proposals included new "statues and monuments", space for large art canvasses, a permanent art gallery or art shop and a space for musical performances.
Enhancing the space was also a priority with a number of submissions calling for more trees and greenery, or a grassy area in Peterhead.
There was also demand for new food outlets to encourage family footfall across the area throughout the day. Options discussed included cafes, an ice cream parlour and an evening restaurant.
Other less orthodox ideas including creating "a zoo" or a bowling alley, but these are unlikely to prove feasible, given the project's budget.
Aberdeenshire Council is offering a total of £100,000 to groups who can deliver the initiatives to rescue the shopping precinct as part of the scheme.
Organiser Martin Danziger, creative director of performing arts group Modo, said: "We're really happy there are clear directions.
"It felt like everyone is going in roughly the same direction.
"There is a clear desire for Drummers Corner to change, a clear desire for more cultural and leisure activities in the town and a clear desire for a more vibrant space.
"The challenge now is to work out what the plan actually looks like. And, crucially, what is affordable on the scale we're talking about."
Mr Danziger is convinced the initiative has yielded a mandate for change which can be used to deliver projects sooner rather than later.
He explained: "Over the four days, we had 750 people, so there are quite a lot of suggestions.
"Although we deliberately asked people what they thought of previously suggested ideas, at the same time there are an awful lot of ideas that still have to be processed and compiled."
Community council chairman John Brownlee sat in on a number of the sessions and was impressed by the response.
He said: "It has grown fast and it has got a lot of people interested.
"There have been so many schemes in the past and I think people expect this to fail. But I don't think it will fail because it's coming from the community.
"If you visit towns in the UK and the rest of the world, art is a growing draw. Whether it's the Angel of the North or smaller installations, it lights up areas."
Glasgow-based firm, Pidgin Perfect, took part in the public consultation and will now take the proposals away and draft an action plan which will be brought back to the community before any funding decisions are made.