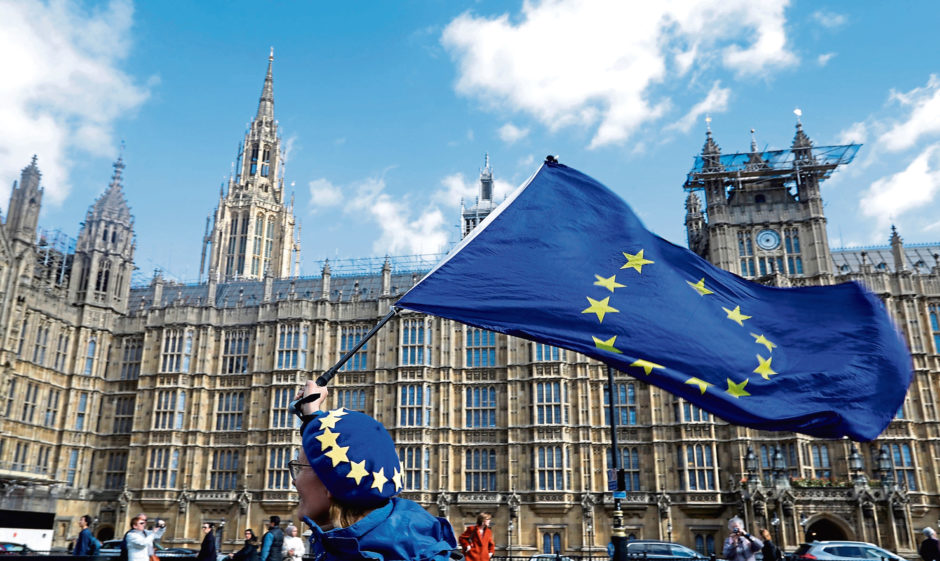 Brexit crashed through Britain's political system like a wrecking ball in June 2016 and caught many in the establishment, whether senior politicians, civil servants or economists, completely off-guard.
Now, after almost three years of negotiations, resignations, elections and deadlock, we are just hours away from the divorce papers being signed, sealed and delivered.
The Union flag is due to be lowered overnight, discreetly at the European parliament buildings in Brussels and Strasbourg and moved to the House of European History museum nearby. In London, Downing Street will stage a special lights display at 11pm and ten million commemorative 50p coins will start to come into circulation to mark the occasion.
How did we get here?
As in any ultimately failed marriage, there were happier times. After the UK entered the European Economic Community in 1973, successive prime ministers all entered Downing Street proclaiming to be strong Europeans. Even Margaret Thatcher, held up as a hero by Brexiteers, was once a strong advocate.
In 1975, addressing the Conservative Group for Europe, the soon to be prime minister said "we are inextricably part of Europe," before taunting those in Labour who wanted to leave.
---
Timeline: The key stages in the Brexit saga
---
"Neither Mr Foot nor Mr Benn nor anyone else will ever be able to take us 'out of Europe', for Europe is where we are and where have always been," she declared.
While paying lip-service to membership of the single market and customs union however, the seeds of the UK's exit were already being sewn. With every opt out or rebate secured, a wedge between the continent and UK grew.
As former Tory and Labour ministers have since acknowledged, the EU became an easy target to blame for domestic issues and with the ascendance of Nigel Farage's UK Independence Party the calls for a say on the UK's membership became deafening in the press.
Eventually, David Cameron was the prime minister who buckled. In his Bloomberg speech in January 2013 he made a pledge that would go on to define his political legacy.
He said that if the Tories won the 2015 general election, he would seek to renegotiate the UK's relationship with the EU and give the British people the "simple choice" between staying in under those terms, or leaving.
The following year, confident in his campaigning machine after victory in Scotland's independence referendum, Mr Cameron recommitted to holding a vote on Britain's EU membership and, in an attempt to face down the threat posed by UKIP, put immigration front and centre.
---

BREXIT DAY: Why Lord Menzies Campbell believes 'Leaving the EU is completely against our better interests'
BREXIT DAY: 'Brussels lined up with London' – former SNP deputy leader Jim Sillars says EU exit helps independence campaign
BREXIT DAY: Protesters taking to the streets in Aberdeen ahead of tonight's EU exit
---
United around the pledge of a referendum, the Tories fought a disciplined general election campaign and on the morning of May 8 2015 the party celebrated its first majority since 1992.
That afternoon, on the steps of Downing Street, Mr Cameron uttered the words: "We will deliver that in-out referendum on our future in Europe."
From the summer of 2015 through to February 2016, Mr Cameron and his negotiators went back and forth to Brussels and to leaders' summits in a bid to get a better settlement with Europe – a sight that has become all too familiar in recent years.
It was supposed to be the spring board for a smooth and successful referendum campaign. But rather than create momentum, the renegotiation fanned the flames of a growing and, ultimately, successful Brexit campaign.
The referendum results swept Mr Cameron aside and ushered Theresa May into Number 10 – and the miscalculations continued.
Perhaps the most costly was the decision in March 2017, contrary to advice from senior officials, to trigger Article 50 and start the two-year timer on Britain's exit without a detailed strategy.
A month later there was another misstep, a general election. Aside from diverting precious resources and much-needed time away from Brexit, it also saw the Tories lose their overall majority – a reality that left Mrs May in hock to the Democratic Unionist Party and a rump of her Brexiteer backbenchers, a move which ultimately brought her time in Downing Street to an end.
(article continues below)
---
Andrew Bowie: Theresa May's former aide reflects on the journey to Brexit
Today is a day that, at times over the past three years, I didn't believe would come. Today the United Kingdom is leaving the European Union.
It is a day that, for me, is one of reflection. Not jubilation, nor despair, but a day when I look back on the journey we've been on as a country- and indeed personally, since David Cameron announced his intention to hold a referendum on UK membership of the EU, seven years ago.
It is a journey that we started when I was in university. I can remember watching his Bloomberg speech in the front room of my student flat in Aberdeen in 2013. Today, the journey ends with me sitting writing this in the library of the House of Commons.
In 2016 I was working in Brussels – working in the European Parliament, when Cameron announced the date of the referendum; by the morning of the 24th of June that year I was sitting in the Scottish Parliament, watching him resign as Prime Minister – the sheer scale of what had happened and shock of the result still sinking in all around me. I, like most of Scotland, had voted to remain.
But, for the past three years, I have served in Parliament as we have struggled and battled to deliver on that democratic result. For the first six months of last year I was up close and personal with the Brexit battle and a small part of the immense effort made to try and leave, first in March and then in June, in good order, with a deal as I served in Number 10 Downing Street as Theresa May's Parliamentary Private Secretary, or, aide. Sadly, for Theresa, it was not to be and I stood side by side with Philip in Downing Street that fateful May day as she announced her resignation. I was behind her as she performed her last PMQs and clapped her out of Downing Street last July.
But I backed Boris for leader because I knew that only he could keep the Conservative Party united – whilst delivering Brexit. And I knew he could do it with a deal. And so he has. It was not easy. The last six months of the year were horrendous for every Member of Parliament. The mood in Parliament was bitter, divisive. Old friends ceased speaking to one another. The country looked on aghast.
Today we leave the European Union. We are not leaving Europe."
But we made it. The General Election returned a large majority for the Conservatives and today we leave the European Union. We are not leaving Europe. We leave on good terms. We leave with a good deal. The opportunities for this country are remarkable. As we look to cement old friendships and develop new relationships, I truly believe this country – this outward looking, international, open country, will thrive.
We have work to do. But today I reflect on a journey that's taken me from Urquhart Road to the Palace of Westminster, via Brussels and Downing Street. And I reflect on the battles fought; the battles lost, and the battles won. And I know that for Britain, the future is bright. — Andrew Bowie
---
Boris Johnson: A new leader given a new mandate
Boris Johnson faced much the same problem as Mrs May when he took the keys to Downing Street last summer – without a workable majority he suffered defeat after defeat and was unable to agree terms by which the UK would leave.
Opposition MPs could have "kept Boris in his cage" as one MP put it at the time, but instead they took a huge gamble on an election that backfired spectacularly.
Now out of the cage and with a majority in Parliament, Mr Johnson has been able to pass his Withdrawal Agreement and will embark on trade negotiations with the EU over a future relationship in the coming months.
The prime minister has set a final deadline of December 2020 to conclude trade negotiations and if an agreement on a future relationship has not been agreed at that stage the UK will leave without a deal.
The EU's chief Brexit negotiator Michel Barnier has said that date is "unrealistic", but Mr Johnson, no longer hobbled by a hung Parliament, has said the UK will be out of the EU "deal or no-deal" when the transition period ends at Christmas.
Politics transformed
Whether you're in favour of Mr Johnson's deal, no-deal, a second referendum or whatever else in between, the only certainty is that Brexit has transformed British politics in a way not seen since the end of the Second World War.
Party loyalties have been destroyed and every area of government policy and parliamentary time has been spent and seen through the lens of Brexit. The symbolism of this evening aside, it is important to remember that while this will bring an end to act one of the drama, act two and the negotiation of our future political relationship still awaits.
Brexit will endure for decades to come.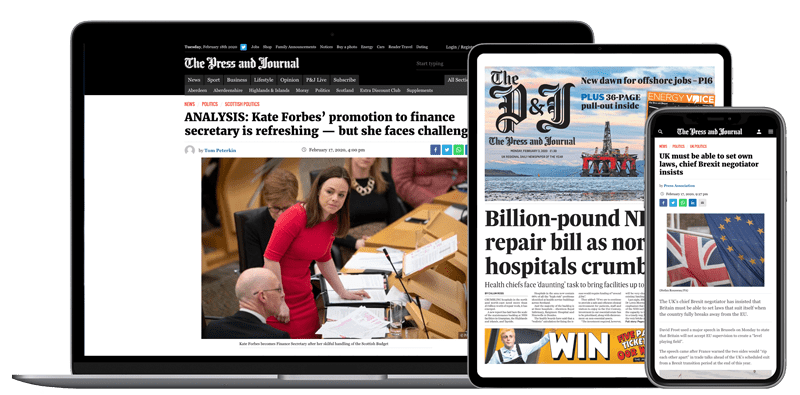 Help support quality local journalism … become a digital subscriber to The Press and Journal
For as little as £5.99 a month you can access all of our content, including Premium articles.
Subscribe